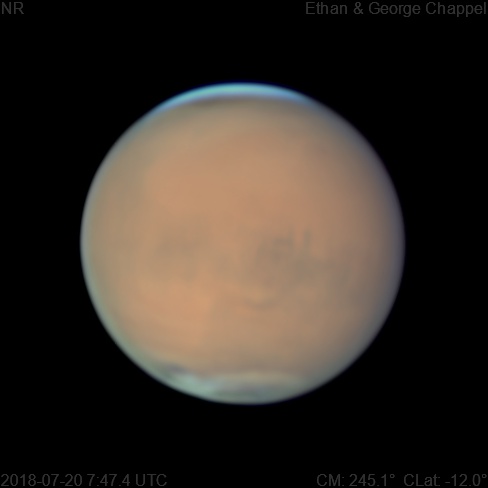 Mars UTC
CM1: 245.10°
CLat: -12.00°
Description
Seeing remained excellent. After this photo, I took some time to view Mars through a Celestron Luminos 23mm eyepiece, which I affectionately call the "Beer Can Eyepiece". The difference in color between the South Polar Cap was surprisingly striking to the eye. Dark albedo markings were barely visible.

Notes:
Syrtis Major is rising.
The atmosphere above Mare Cimmerium appears to be less opaque than surrounding areas.
Hellas Basin has a few yellow clouds streaking over it.
The South Polar Cap still appears to be muted by the dust storm.
Most of the SPC also appears to be darkened.
Equipment
ZWO ASI290MM
Astro-Physics Advanced Convertible Barlow
Celestron EdgeHD 14
Logs
FireCapture v2.6  Settings
------------------------------------
Observer=Ethan Chappel
Location=Cibolo, TX, USA
Scope=Celstron C14 EdgeHD
Camera=ZWO ASI290MM
Filter=G
Profile=Mars
Diameter=23.78"
Magnitude=-2.69
CM=246.6°  (during mid of capture)
FocalLength=8500mm (F/23)
Resolution=0.07"
Filename=2018-07-20-0752_8-EC-G-Mars.ser
Date=200718
Start=075133.713
Mid=075248.718
End=075403.723
Start(UT)=075133.713
Mid(UT)=075248.718
End(UT)=075403.723
Duration=150.010s
Date_format=ddMMyy
Time_format=HHmmss
LT=UT -6h
Frames captured=14991
File type=SER
Binning=no
Bit depth=8bit
Debayer=no
ROI=428x414
ROI(Offset)=0x0
FPS (avg.)=99
Shutter=10.00ms
Gain=230 (38%)
HighSpeed=off
SoftwareGain=10 (off)
AutoGain=off
Gamma=50 (off)
AutoExposure=off
AutoHisto=75 (off)
FPS=100 (off)
USBTraffic=40 (off)
Brightness=1 (off)
Histogramm(min)=0
Histogramm(max)=114
Histogramm=44%
Noise(avg.deviation)=0.60
Limit=150 Seconds
Sensor temperature=34.2°C
Focuser position=973
FireCapture v2.6  Settings
------------------------------------
Observer=Ethan Chappel
Location=Cibolo, TX, USA
Scope=Celstron C14 EdgeHD
Camera=ZWO ASI290MM
Filter=R
Profile=Mars
Diameter=23.78"
Magnitude=-2.69
CM=245.7°  (during mid of capture)
FocalLength=8450mm (F/23)
Resolution=0.07"
Filename=2018-07-20-0748_9-EC-R-Mars.ser
Date=200718
Start=074744.740
Mid=074859.745
End=075014.750
Start(UT)=074744.740
Mid(UT)=074859.745
End(UT)=075014.750
Duration=150.010s
Date_format=ddMMyy
Time_format=HHmmss
LT=UT -6h
Frames captured=16666
File type=SER
Binning=no
Bit depth=8bit
Debayer=no
ROI=428x414
ROI(Offset)=0x0
FPS (avg.)=111
Shutter=9.000ms
Gain=180 (30%)
HighSpeed=off
SoftwareGain=10 (off)
AutoGain=off
Gamma=50 (off)
AutoExposure=off
AutoHisto=75 (off)
FPS=100 (off)
USBTraffic=40 (off)
Brightness=1 (off)
Histogramm(min)=0
Histogramm(max)=123
Histogramm=48%
Noise(avg.deviation)=0.47
Limit=150 Seconds
Sensor temperature=34.1°C
Focuser position=1073
FireCapture v2.6  Settings
------------------------------------
Observer=Ethan Chappel
Location=Cibolo, TX, USA
Scope=Celstron C14 EdgeHD
Camera=ZWO ASI290MM
Filter=B
Profile=Mars
Diameter=23.78"
Magnitude=-2.69
CM=244.8°  (during mid of capture)
FocalLength=8700mm (F/24)
Resolution=0.07"
Filename=2018-07-20-0745_2-EC-B-Mars.ser
Date=200718
Start=074359.230
Mid=074514.235
End=074629.240
Start(UT)=074359.230
Mid(UT)=074514.235
End(UT)=074629.240
Duration=150.010s
Date_format=ddMMyy
Time_format=HHmmss
LT=UT -6h
Frames captured=11938
File type=SER
Binning=no
Bit depth=8bit
Debayer=no
ROI=428x414
ROI(Offset)=0x0
FPS (avg.)=79
Shutter=12.56ms
Gain=280 (46%)
HighSpeed=off
SoftwareGain=10 (off)
AutoGain=off
Gamma=50
AutoExposure=off
AutoHisto=75 (off)
FPS=100 (off)
USBTraffic=40 (off)
Brightness=1 (off)
Histogramm(min)=0
Histogramm(max)=133
Histogramm=52%
Noise(avg.deviation)=0.89
Limit=150 Seconds
Sensor temperature=33.6°C
Focuser position=1023
FireCapture v2.6  Settings
------------------------------------
Observer=Ethan Chappel
Location=Cibolo, TX, USA
Scope=Celstron C14 EdgeHD
Camera=ZWO ASI290MM
Filter=G
Profile=Mars
Diameter=23.78"
Magnitude=-2.69
CM=243.7°  (during mid of capture)
FocalLength=8500mm (F/23)
Resolution=0.07"
Filename=2018-07-20-0740_6-EC-G-Mars.ser
Date=200718
Start=073923.061
Mid=074038.065
End=074153.070
Start(UT)=073923.061
Mid(UT)=074038.065
End(UT)=074153.070
Duration=150.009s
Date_format=ddMMyy
Time_format=HHmmss
LT=UT -6h
Frames captured=14991
File type=SER
Binning=no
Bit depth=8bit
Debayer=no
ROI=428x414
ROI(Offset)=0x0
FPS (avg.)=99
Shutter=10.00ms
Gain=230 (38%)
HighSpeed=off
SoftwareGain=10 (off)
AutoGain=off
Gamma=50 (off)
AutoExposure=off
AutoHisto=75 (off)
FPS=100 (off)
USBTraffic=40 (off)
Brightness=1 (off)
Histogramm(min)=0
Histogramm(max)=115
Histogramm=45%
Noise(avg.deviation)=0.62
Limit=150 Seconds
Sensor temperature=34.3°C
Focuser position=1023
FireCapture v2.6  Settings
------------------------------------
Observer=Ethan Chappel
Location=Cibolo, TX, USA
Scope=Celstron C14 EdgeHD
Camera=ZWO ASI290MM
Filter=R
Profile=Mars
Diameter=23.78"
Magnitude=-2.69
CM=242.8°  (during mid of capture)
FocalLength=8500mm (F/23)
Resolution=0.07"
Filename=2018-07-20-0737_3-EC-R-Mars.ser
Date=200718
Start=073604.287
Mid=073719.292
End=073834.297
Start(UT)=073604.287
Mid(UT)=073719.292
End(UT)=073834.297
Duration=150.010s
Date_format=ddMMyy
Time_format=HHmmss
LT=UT -6h
Frames captured=16666
File type=SER
Binning=no
Bit depth=8bit
Debayer=no
ROI=428x414
ROI(Offset)=0x0
FPS (avg.)=111
Shutter=9.000ms
Gain=180 (30%)
HighSpeed=off
SoftwareGain=10 (off)
AutoGain=off
Gamma=50 (off)
AutoExposure=off
AutoHisto=75 (off)
FPS=100 (off)
USBTraffic=40 (off)
Brightness=1 (off)
Histogramm(min)=0
Histogramm(max)=123
Histogramm=48%
Noise(avg.deviation)=0.47
Limit=150 Seconds
Sensor temperature=34.2°C
Focuser position=1118
FireCapture v2.6  Settings
------------------------------------
Observer=Ethan Chappel
Location=Cibolo, TX, USA
Scope=Celstron C14 EdgeHD
Camera=ZWO ASI290MM
Filter=B
Profile=Mars
Diameter=23.78"
Magnitude=-2.69
CM=248.2°  (during mid of capture)
FocalLength=8700mm (F/24)
Resolution=0.07"
Filename=2018-07-20-0759_4-EC-B-Mars.ser
Date=200718
Start=075812.656
Mid=075927.661
End=080042.666
Start(UT)=075812.656
Mid(UT)=075927.661
End(UT)=080042.666
Duration=150.010s
Date_format=ddMMyy
Time_format=HHmmss
LT=UT -6h
Frames captured=11939
File type=SER
Binning=no
Bit depth=8bit
Debayer=no
ROI=428x414
ROI(Offset)=0x0
FPS (avg.)=79
Shutter=12.56ms
Gain=280 (46%)
HighSpeed=off
SoftwareGain=10 (off)
AutoGain=off
Gamma=50
AutoExposure=off
AutoHisto=75 (off)
FPS=100 (off)
USBTraffic=40 (off)
Brightness=1 (off)
Histogramm(min)=0
Histogramm(max)=124
Histogramm=48%
Noise(avg.deviation)=0.86
Limit=150 Seconds
Sensor temperature=33.3°C
Focuser position=883