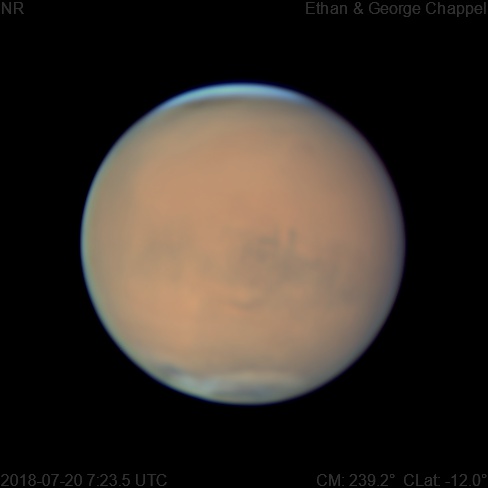 Mars UTC
CM1: 239.20°
CLat: -12.00°
Description
Seeing further improved, perhaps becoming the best it has been while imaging Mars with the C14.

Notes:
Syrtis Major is rising.
The atmosphere above Mare Cimmerium appears to be less opaque than surrounding areas.
Hellas Basin has a few yellow clouds streaking over it.
The South Polar Cap still appears to be muted by the dust storm.
Most of the SPC also appears to be darkened.
Equipment
ZWO ASI290MM
Astro-Physics Advanced Convertible Barlow
Celestron EdgeHD 14
Logs
FireCapture v2.6  Settings
------------------------------------
Observer=Ethan Chappel
Location=Cibolo, TX, USA
Scope=Celstron C14 EdgeHD
Camera=ZWO ASI290MM
Filter=B
Profile=Mars
Diameter=23.78"
Magnitude=-2.69
CM=241.9°  (during mid of capture)
FocalLength=8700mm (F/24)
Resolution=0.07"
Filename=2018-07-20-0733_3-EC-B-Mars.ser
Date=200718
Start=073208.087
Mid=073323.091
End=073438.096
Start(UT)=073208.087
Mid(UT)=073323.091
End(UT)=073438.096
Duration=150.009s
Date_format=ddMMyy
Time_format=HHmmss
LT=UT -6h
Frames captured=11938
File type=SER
Binning=no
Bit depth=8bit
Debayer=no
ROI=428x414
ROI(Offset)=0x0
FPS (avg.)=79
Shutter=12.56ms
Gain=280 (46%)
HighSpeed=off
SoftwareGain=10 (off)
AutoGain=off
Gamma=50
AutoExposure=off
AutoHisto=75 (off)
FPS=100 (off)
USBTraffic=40 (off)
Brightness=1 (off)
Histogramm(min)=0
Histogramm(max)=133
Histogramm=52%
Noise(avg.deviation)=0.93
Limit=150 Seconds
Sensor temperature=34.0°C
Focuser position=1068
FireCapture v2.6  Settings
------------------------------------
Observer=Ethan Chappel
Location=Cibolo, TX, USA
Scope=Celstron C14 EdgeHD
Camera=ZWO ASI290MM
Filter=G
Profile=Mars
Diameter=23.78"
Magnitude=-2.69
CM=240.8°  (during mid of capture)
FocalLength=8500mm (F/23)
Resolution=0.07"
Filename=2018-07-20-0728_8-EC-G-Mars.ser
Date=200718
Start=072736.432
Mid=072851.437
End=073006.442
Start(UT)=072736.432
Mid(UT)=072851.437
End(UT)=073006.442
Duration=150.010s
Date_format=ddMMyy
Time_format=HHmmss
LT=UT -6h
Frames captured=14991
File type=SER
Binning=no
Bit depth=8bit
Debayer=no
ROI=428x414
ROI(Offset)=0x0
FPS (avg.)=99
Shutter=10.00ms
Gain=230 (38%)
HighSpeed=off
SoftwareGain=10 (off)
AutoGain=off
Gamma=50 (off)
AutoExposure=off
AutoHisto=75 (off)
FPS=100 (off)
USBTraffic=40 (off)
Brightness=1 (off)
Histogramm(min)=0
Histogramm(max)=124
Histogramm=48%
Noise(avg.deviation)=0.64
Limit=150 Seconds
Sensor temperature=34.5°C
Focuser position=1068
FireCapture v2.6  Settings
------------------------------------
Observer=Ethan Chappel
Location=Cibolo, TX, USA
Scope=Celstron C14 EdgeHD
Camera=ZWO ASI290MM
Filter=R
Profile=Mars
Diameter=23.78"
Magnitude=-2.69
CM=240.0°  (during mid of capture)
FocalLength=8450mm (F/23)
Resolution=0.07"
Filename=2018-07-20-0725_4-EC-R-Mars.ser
Date=200718
Start=072413.488
Mid=072528.492
End=072643.496
Start(UT)=072413.488
Mid(UT)=072528.492
End(UT)=072643.496
Duration=150.008s
Date_format=ddMMyy
Time_format=HHmmss
LT=UT -6h
Frames captured=16666
File type=SER
Binning=no
Bit depth=8bit
Debayer=no
ROI=428x414
ROI(Offset)=0x0
FPS (avg.)=111
Shutter=9.000ms
Gain=180 (30%)
HighSpeed=off
SoftwareGain=10 (off)
AutoGain=off
Gamma=50 (off)
AutoExposure=off
AutoHisto=75 (off)
FPS=100 (off)
USBTraffic=40 (off)
Brightness=1 (off)
Histogramm(min)=0
Histogramm(max)=127
Histogramm=49%
Noise(avg.deviation)=0.49
Limit=150 Seconds
Sensor temperature=34.2°C
Focuser position=1098
FireCapture v2.6  Settings
------------------------------------
Observer=Ethan Chappel
Location=Cibolo, TX, USA
Scope=Celstron C14 EdgeHD
Camera=ZWO ASI290MM
Filter=B
Profile=Mars
Diameter=23.78"
Magnitude=-2.69
CM=239.1°  (during mid of capture)
FocalLength=8650mm (F/24)
Resolution=0.07"
Filename=2018-07-20-0722_1-EC-B-Mars.ser
Date=200718
Start=072053.207
Mid=072208.212
End=072323.217
Start(UT)=072053.207
Mid(UT)=072208.212
End(UT)=072323.217
Duration=150.010s
Date_format=ddMMyy
Time_format=HHmmss
LT=UT -6h
Frames captured=11938
File type=SER
Binning=no
Bit depth=8bit
Debayer=no
ROI=428x414
ROI(Offset)=0x0
FPS (avg.)=79
Shutter=12.56ms
Gain=280 (46%)
HighSpeed=off
SoftwareGain=10 (off)
AutoGain=off
Gamma=50
AutoExposure=off
AutoHisto=75 (off)
FPS=100 (off)
USBTraffic=40 (off)
Brightness=1 (off)
Histogramm(min)=0
Histogramm(max)=144
Histogramm=56%
Noise(avg.deviation)=0.95
Limit=150 Seconds
Sensor temperature=34.0°C
Focuser position=1048
FireCapture v2.6  Settings
------------------------------------
Observer=Ethan Chappel
Location=Cibolo, TX, USA
Scope=Celstron C14 EdgeHD
Camera=ZWO ASI290MM
Filter=G
Profile=Mars
Diameter=23.78"
Magnitude=-2.69
CM=238.0°  (during mid of capture)
FocalLength=8550mm (F/24)
Resolution=0.07"
Filename=2018-07-20-0717_4-EC-G-Mars.ser
Date=200718
Start=071613.934
Mid=071728.938
End=071843.943
Start(UT)=071613.934
Mid(UT)=071728.938
End(UT)=071843.943
Duration=150.009s
Date_format=ddMMyy
Time_format=HHmmss
LT=UT -6h
Frames captured=14992
File type=SER
Binning=no
Bit depth=8bit
Debayer=no
ROI=428x414
ROI(Offset)=0x0
FPS (avg.)=99
Shutter=10.00ms
Gain=230 (38%)
HighSpeed=off
SoftwareGain=10 (off)
AutoGain=off
Gamma=50 (off)
AutoExposure=off
AutoHisto=75 (off)
FPS=100 (off)
USBTraffic=40 (off)
Brightness=1 (off)
Histogramm(min)=0
Histogramm(max)=121
Histogramm=47%
Noise(avg.deviation)=0.63
Limit=150 Seconds
Sensor temperature=34.7°C
Focuser position=1098
FireCapture v2.6  Settings
------------------------------------
Observer=Ethan Chappel
Location=Cibolo, TX, USA
Scope=Celstron C14 EdgeHD
Camera=ZWO ASI290MM
Filter=R
Profile=Mars
Diameter=23.78"
Magnitude=-2.69
CM=237.2°  (during mid of capture)
FocalLength=8500mm (F/23)
Resolution=0.07"
Filename=2018-07-20-0714_1-EC-R-Mars.ser
Date=200718
Start=071251.491
Mid=071406.495
End=071521.500
Start(UT)=071251.491
Mid(UT)=071406.495
End(UT)=071521.500
Duration=150.009s
Date_format=ddMMyy
Time_format=HHmmss
LT=UT -6h
Frames captured=16667
File type=SER
Binning=no
Bit depth=8bit
Debayer=no
ROI=428x414
ROI(Offset)=0x0
FPS (avg.)=111
Shutter=9.000ms
Gain=180 (30%)
HighSpeed=off
SoftwareGain=10 (off)
AutoGain=off
Gamma=50 (off)
AutoExposure=off
AutoHisto=75 (off)
FPS=100 (off)
USBTraffic=40 (off)
Brightness=1 (off)
Histogramm(min)=0
Histogramm(max)=124
Histogramm=48%
Noise(avg.deviation)=0.48
Limit=150 Seconds
Sensor temperature=34.6°C
Focuser position=1078