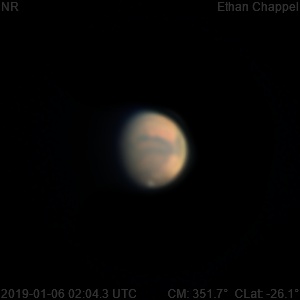 Mars UTC
CM1: 351.70°
CLat: -26.10°
Description
I decided to call it a night after this image so I could get enough sleep for Jupiter in the morning.

Notes:
Sinus Meridiani is at the central meridian.
Syrtis Major and Hellas Basin are setting.
The bright orange cloud over Hellas looks like it may have escaped the basin on its western side.
The south polar cap is very small.
Equipment
ZWO ASI174MM
Celestron X-Cel 3x
Celestron EdgeHD 8
Logs
FireCapture v2.6  Settings
------------------------------------
Observer=Ethan Chappel
Camera=ZWO ASI174MM
Filter=R
Profile=Mars
Diameter=7.18"
Magnitude=0.54
CM=351.0°  (during mid of capture)
FocalLength=9450mm (F/33)
Resolution=0.13"
Filename=2019-01-06-0200_5-EC-R-Mars.ser
Date=2019_01_06
Start=01_59_20.330
Mid=02_00_35.334
End=02_01_50.338
Start(UT)=01_59_20.330
Mid(UT)=02_00_35.334
End(UT)=02_01_50.338
Duration=150.008s
Date_format=yyyy_MM_dd
Time_format=HH_mm_ss
LT=UT -6h
Frames captured=9971
File type=SER
Binning=no
Bit depth=8bit
Debayer=no
ROI=184x190
ROI(Offset)=0x0
FPS (avg.)=66
Shutter=15.00ms
Gain=280 (70%)
AutoGain=off
FPS=100 (off)
AutoExposure=off
Brightness=1 (off)
Gamma=50 (off)
SoftwareGain=10 (off)
AutoHisto=75 (off)
HighSpeed=off
USBTraffic=80 (off)
Histogramm(min)=0
Histogramm(max)=91
Histogramm=35%
Noise(avg.deviation)=0.47
AutoAlign=false
PreFilter=none
Limit=150 Seconds
Sensor temperature=29.5°C
FireCapture v2.6  Settings
------------------------------------
Observer=Ethan Chappel
Camera=ZWO ASI174MM
Filter=B
Profile=Mars
Diameter=7.18"
Magnitude=0.54
CM=352.9°  (during mid of capture)
FocalLength=10250mm (F/36)
Resolution=0.12"
Filename=2019-01-06-0208_5-EC-B-Mars.ser
Date=2019_01_06
Start=02_07_15.496
Mid=02_08_30.500
End=02_09_45.504
Start(UT)=02_07_15.496
Mid(UT)=02_08_30.500
End(UT)=02_09_45.504
Duration=150.008s
Date_format=yyyy_MM_dd
Time_format=HH_mm_ss
LT=UT -6h
Frames captured=8854
File type=SER
Binning=no
Bit depth=8bit
Debayer=no
ROI=184x190
ROI(Offset)=0x0
FPS (avg.)=59
Shutter=16.90ms
Gain=330 (82%)
AutoGain=off
FPS=100 (off)
AutoExposure=off
Brightness=1 (off)
Gamma=50 (off)
SoftwareGain=10 (off)
AutoHisto=75 (off)
HighSpeed=off
USBTraffic=80 (off)
Histogramm(min)=0
Histogramm(max)=88
Histogramm=34%
Noise(avg.deviation)=1.01
AutoAlign=false
PreFilter=none
Limit=150 Seconds
Sensor temperature=29.5°C
FireCapture v2.6  Settings
------------------------------------
Observer=Ethan Chappel
Camera=ZWO ASI174MM
Filter=G
Profile=Mars
Diameter=7.18"
Magnitude=0.54
CM=351.9°  (during mid of capture)
FocalLength=9750mm (F/34)
Resolution=0.12"
Filename=2019-01-06-0204_0-EC-G-Mars.ser
Date=2019_01_06
Start=02_02_47.649
Mid=02_04_02.650
End=02_05_17.652
Start(UT)=02_02_47.649
Mid(UT)=02_04_02.650
End(UT)=02_05_17.652
Duration=150.003s
Date_format=yyyy_MM_dd
Time_format=HH_mm_ss
LT=UT -6h
Frames captured=9970
File type=SER
Binning=no
Bit depth=8bit
Debayer=no
ROI=184x190
ROI(Offset)=0x0
FPS (avg.)=66
Shutter=15.00ms
Gain=300 (75%)
AutoGain=off
FPS=100 (off)
AutoExposure=off
Brightness=1 (off)
Gamma=50 (off)
SoftwareGain=10 (off)
AutoHisto=75 (off)
HighSpeed=off
USBTraffic=80 (off)
Histogramm(min)=0
Histogramm(max)=85
Histogramm=33%
Noise(avg.deviation)=0.65
AutoAlign=false
PreFilter=none
Limit=150 Seconds
Sensor temperature=29.5°C