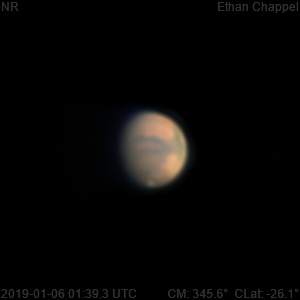 Mars UTC
CM1: 345.60°
CLat: -26.10°
Description
Mars is only 7.1" in width, or about 30% of its apparent width at the end of July. Sky conditions were much better tonight compared to last month.

Notes:
Sinus Meridiani is at the central meridian.
Syrtis Major and Hellas Basin are setting.
The bright orange cloud over Hellas looks like it may have escaped the basin on its western side.
The south polar cap is very small.
Logs
FireCapture v2.6  Settings
------------------------------------
Observer=Ethan Chappel
Camera=ZWO ASI174MM
Filter=B
Profile=Mars
Diameter=7.18"
Magnitude=0.54
CM=347.4°  (during mid of capture)
FocalLength=10450mm (F/37)
Resolution=0.12"
Filename=2019-01-06-0145_5-EC-B-Mars.ser
Date=2019_01_06
Start=01_44_19.316
Mid=01_45_34.322
End=01_46_49.328
Start(UT)=01_44_19.316
Mid(UT)=01_45_34.322
End(UT)=01_46_49.328
Duration=150.012s
Date_format=yyyy_MM_dd
Time_format=HH_mm_ss
LT=UT -6h
Frames captured=8853
File type=SER
Binning=no
Bit depth=8bit
Debayer=no
ROI=184x190
ROI(Offset)=0x0
FPS (avg.)=59
Shutter=16.90ms
Gain=330 (82%)
AutoGain=off
FPS=100 (off)
AutoExposure=off
Brightness=1 (off)
Gamma=50 (off)
SoftwareGain=10 (off)
AutoHisto=75 (off)
HighSpeed=off
USBTraffic=80 (off)
Histogramm(min)=0
Histogramm(max)=90
Histogramm=35%
Noise(avg.deviation)=1.01
AutoAlign=false
PreFilter=none
Limit=150 Seconds
Sensor temperature=28.5°C
FireCapture v2.6  Settings
------------------------------------
Observer=Ethan Chappel
Camera=ZWO ASI174MM
Filter=G
Profile=Mars
Diameter=7.18"
Magnitude=0.54
CM=346.0°  (during mid of capture)
FocalLength=9950mm (F/35)
Resolution=0.12"
Filename=2019-01-06-0139_7-EC-G-Mars.ser
Date=2019_01_06
Start=01_38_31.206
Mid=01_39_46.207
End=01_41_01.208
Start(UT)=01_38_31.206
Mid(UT)=01_39_46.207
End(UT)=01_41_01.208
Duration=150.002s
Date_format=yyyy_MM_dd
Time_format=HH_mm_ss
LT=UT -6h
Frames captured=9970
File type=SER
Binning=no
Bit depth=8bit
Debayer=no
ROI=184x190
ROI(Offset)=0x0
FPS (avg.)=66
Shutter=15.00ms
Gain=300 (75%)
AutoGain=off
FPS=100 (off)
AutoExposure=off
Brightness=1 (off)
Gamma=50 (off)
SoftwareGain=10 (off)
AutoHisto=75 (off)
HighSpeed=off
USBTraffic=80 (off)
Histogramm(min)=0
Histogramm(max)=91
Histogramm=35%
Noise(avg.deviation)=0.64
AutoAlign=false
PreFilter=none
Limit=150 Seconds
Sensor temperature=27.5°C
FireCapture v2.6  Settings
------------------------------------
Observer=Ethan Chappel
Camera=ZWO ASI174MM
Filter=R
Profile=Mars
Diameter=7.18"
Magnitude=0.54
CM=344.3°  (during mid of capture)
FocalLength=9450mm (F/33)
Resolution=0.13"
Filename=2019-01-06-0132_8-EC-R-Mars.ser
Date=2019_01_06
Start=01_31_36.995
Mid=01_32_51.999
End=01_34_07.003
Start(UT)=01_31_36.995
Mid(UT)=01_32_51.999
End(UT)=01_34_07.003
Duration=150.008s
Date_format=yyyy_MM_dd
Time_format=HH_mm_ss
LT=UT -6h
Frames captured=9970
File type=SER
Binning=no
Bit depth=8bit
Debayer=no
ROI=184x190
ROI(Offset)=0x0
FPS (avg.)=66
Shutter=15.00ms
Gain=280 (70%)
AutoGain=off
FPS=100 (off)
AutoExposure=off
Brightness=1 (off)
Gamma=50 (off)
SoftwareGain=10 (off)
AutoHisto=75 (off)
HighSpeed=off
USBTraffic=80 (off)
Histogramm(min)=0
Histogramm(max)=110
Histogramm=43%
Noise(avg.deviation)=0.47
AutoAlign=false
PreFilter=none
Limit=150 Seconds
Sensor temperature=25.5°C