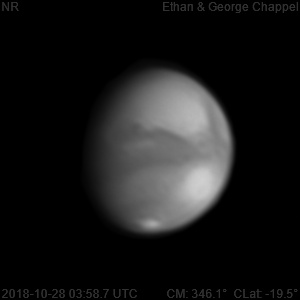 Mars UTC
CM1: 346.10°
CLat: -19.50°
Description
Before finishing up on Mars, I wanted to get an infrared photo of Mars to cut through the heat plumes.

Notes:
Sinus Meridiani is at the central meridian.
Syrtis Major and Hellas Basin are setting.
Hellas Basin appears to be covered in bright dust.
Very little is left of the South polar cap.
Equipment
ZWO ASI290MM
Astro-Physics Advanced Convertible Barlow
Celestron EdgeHD 14
Logs
FireCapture v2.6  Settings
------------------------------------
Observer=Ethan Chappel
Camera=ZWO ASI290MM
Filter=IR
Profile=Mars
Diameter=12.28"
Magnitude=-0.69
CM=346.0°  (during mid of capture)
FocalLength=8700mm (F/31)
Resolution=0.07"
Filename=2018-10-28-0357_4-EC-IR-Mars.ser
Date=2018_10_28
Start=03_56_09.782
Mid=03_57_24.786
End=03_58_39.791
Start(UT)=03_56_09.782
Mid(UT)=03_57_24.786
End(UT)=03_58_39.791
Duration=150.009s
Date_format=yyyy_MM_dd
Time_format=HH_mm_ss
LT=UT -6h
Frames captured=14991
File type=SER
Binning=no
Bit depth=8bit
Debayer=no
ROI=308x284
ROI(Offset)=0x0
FPS (avg.)=99
Shutter=10.00ms
Gain=188 (31%)
AutoHisto=75 (off)
AutoExposure=off
Brightness=1 (off)
USBTraffic=40 (off)
Gamma=50
HighSpeed=off
AutoGain=off
SoftwareGain=10 (off)
FPS=100 (off)
Histogramm(min)=0
Histogramm(max)=124
Histogramm=48%
Noise(avg.deviation)=0.13
AutoAlign=false
PreFilter=none
Limit=150 Seconds
Sensor temperature=25.6°C
Focuser position=2631
FireCapture v2.6  Settings
------------------------------------
Observer=Ethan Chappel
Camera=ZWO ASI290MM
Filter=IR
Profile=Mars
Diameter=12.28"
Magnitude=-0.69
CM=346.6°  (during mid of capture)
FocalLength=8650mm (F/30)
Resolution=0.07"
Filename=2018-10-28-0400_0-EC-IR-Mars.ser
Date=2018_10_28
Start=03_58_45.607
Mid=04_00_00.611
End=04_01_15.616
Start(UT)=03_58_45.607
Mid(UT)=04_00_00.611
End(UT)=04_01_15.616
Duration=150.009s
Date_format=yyyy_MM_dd
Time_format=HH_mm_ss
LT=UT -6h
Frames captured=14991
File type=SER
Binning=no
Bit depth=8bit
Debayer=no
ROI=308x284
ROI(Offset)=0x0
FPS (avg.)=99
Shutter=10.00ms
Gain=188 (31%)
AutoHisto=75 (off)
AutoExposure=off
Brightness=1 (off)
USBTraffic=40 (off)
Gamma=50
HighSpeed=off
AutoGain=off
SoftwareGain=10 (off)
FPS=100 (off)
Histogramm(min)=0
Histogramm(max)=129
Histogramm=50%
Noise(avg.deviation)=0.13
AutoAlign=false
PreFilter=none
Limit=150 Seconds
Sensor temperature=25.6°C
Focuser position=2631