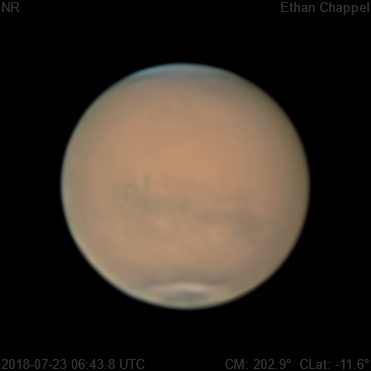 Mars UTC
CM1: 202.90°
CLat: -11.60°
Description
Seeing and transparency was excellent. The ASI224MC doesn't seem to pick up blue as well as the ASI290MM and filters.

Notes:
Mare Cimmerium is visible under the global dust storm.
The South Polar Cap is covered by the dust storm.
The SPC on visible hemisphere has a dark center with a brighter perimeter.
Equipment
ZWO ASI224MC
Celestron EdgeHD 8
Logs
FireCapture v2.6  Settings
------------------------------------
Observer=Ethan Chappel
Location=Cibolo, TX, USA
Scope=Celstron C14 EdgeHD
Camera=ZWO ASI224MC
Filter=RGB
Profile=Mars
Diameter=24.02"
Magnitude=-2.74
CM=205.4°  (during mid of capture)
FocalLength=8450mm (F/23)
Resolution=0.09"
Filename=2018-07-23-0652_9-EC-RGB-Mars.ser
Date=2018_07_23
Start=065141.624
Mid=065256.629
End=065411.634
Start(UT)=065141.624
Mid(UT)=065256.629
End(UT)=065411.634
Duration=150.010s
Date_format=yyyy_MM_dd
Time_format=HHmmss
LT=UT -6h
Frames captured=9368
File type=SER
Binning=no
Bit depth=8bit
Debayer=yes
DebayerAlgorithm=NearestNeighbor
BayerPattern=RG
ROI=340x338
ROI(Offset)=0x0
FPS (avg.)=62
Shutter=16.00ms
Gain=240 (40%)
AutoGain=off
WRed=52 (off)
Brightness=1 (off)
HardwareBin=off
SoftwareGain=10 (off)
USBTraffic=100 (off)
HighSpeed=off
AutoHisto=75 (off)
AutoExposure=off
Gamma=50 (off)
WBlue=95 (off)
FPS=100 (off)
Histogramm(min)=0
Histogramm(max)=62
Histogramm=24%
Noise(avg.deviation)=0.43
Limit=150 Seconds
Sensor temperature=33.8°C
FireCapture v2.6  Settings
------------------------------------
Observer=Ethan Chappel
Location=Cibolo, TX, USA
Scope=Celstron C14 EdgeHD
Camera=ZWO ASI224MC
Filter=RGB
Profile=Mars
Diameter=24.02"
Magnitude=-2.74
CM=204.3°  (during mid of capture)
FocalLength=8450mm (F/23)
Resolution=0.09"
Filename=2018-07-23-0648_5-EC-RGB-Mars.ser
Date=2018_07_23
Start=064717.459
Mid=064832.460
End=064947.461
Start(UT)=064717.459
Mid(UT)=064832.460
End(UT)=064947.461
Duration=150.002s
Date_format=yyyy_MM_dd
Time_format=HHmmss
LT=UT -6h
Frames captured=9166
File type=SER
Binning=no
Bit depth=8bit
Debayer=yes
DebayerAlgorithm=NearestNeighbor
BayerPattern=RG
ROI=340x338
ROI(Offset)=0x0
FPS (avg.)=61
Shutter=16.00ms
Gain=240 (40%)
AutoGain=off
WRed=52 (off)
Brightness=1 (off)
HardwareBin=off
SoftwareGain=10 (off)
USBTraffic=100 (off)
HighSpeed=off
AutoHisto=75 (off)
AutoExposure=off
Gamma=50 (off)
WBlue=95 (off)
FPS=100 (off)
Histogramm(min)=0
Histogramm(max)=63
Histogramm=24%
Noise(avg.deviation)=0.42
Limit=150 Seconds
Sensor temperature=33.8°C
FireCapture v2.6  Settings
------------------------------------
Observer=Ethan Chappel
Location=Cibolo, TX, USA
Scope=Celstron C14 EdgeHD
Camera=ZWO ASI224MC
Filter=RGB
Profile=Mars
Diameter=24.02"
Magnitude=-2.74
CM=203.4°  (during mid of capture)
FocalLength=8450mm (F/23)
Resolution=0.09"
Filename=2018-07-23-0644_5-EC-RGB-Mars.ser
Date=2018_07_23
Start=064318.564
Mid=064433.569
End=064548.574
Start(UT)=064318.564
Mid(UT)=064433.569
End(UT)=064548.574
Duration=150.010s
Date_format=yyyy_MM_dd
Time_format=HHmmss
LT=UT -6h
Frames captured=9368
File type=SER
Binning=no
Bit depth=8bit
Debayer=yes
DebayerAlgorithm=NearestNeighbor
BayerPattern=RG
ROI=340x338
ROI(Offset)=0x0
FPS (avg.)=62
Shutter=16.00ms
Gain=240 (40%)
AutoGain=off
WRed=52 (off)
Brightness=1 (off)
HardwareBin=off
SoftwareGain=10 (off)
USBTraffic=100 (off)
HighSpeed=off
AutoHisto=75 (off)
AutoExposure=off
Gamma=50 (off)
WBlue=95 (off)
FPS=100 (off)
Histogramm(min)=0
Histogramm(max)=61
Histogramm=23%
Noise(avg.deviation)=0.41
Limit=150 Seconds
Sensor temperature=34.0°C
FireCapture v2.6  Settings
------------------------------------
Observer=Ethan Chappel
Location=Cibolo, TX, USA
Scope=Celstron C14 EdgeHD
Camera=ZWO ASI224MC
Filter=RGB
Profile=Mars
Diameter=24.02"
Magnitude=-2.74
CM=202.3°  (during mid of capture)
FocalLength=8450mm (F/23)
Resolution=0.09"
Filename=2018-07-23-0640_2-EC-RGB-Mars.ser
Date=2018_07_23
Start=063857.480
Mid=064012.485
End=064127.490
Start(UT)=063857.480
Mid(UT)=064012.485
End(UT)=064127.490
Duration=150.010s
Date_format=yyyy_MM_dd
Time_format=HHmmss
LT=UT -6h
Frames captured=9368
File type=SER
Binning=no
Bit depth=8bit
Debayer=yes
DebayerAlgorithm=NearestNeighbor
BayerPattern=RG
ROI=340x338
ROI(Offset)=0x0
FPS (avg.)=62
Shutter=16.00ms
Gain=240 (40%)
AutoGain=off
WRed=52 (off)
Brightness=1 (off)
HardwareBin=off
SoftwareGain=10 (off)
USBTraffic=100 (off)
HighSpeed=off
AutoHisto=75 (off)
AutoExposure=off
Gamma=50 (off)
WBlue=95 (off)
FPS=100 (off)
Histogramm(min)=0
Histogramm(max)=60
Histogramm=23%
Noise(avg.deviation)=0.43
Limit=150 Seconds
Sensor temperature=34.0°C
FireCapture v2.6  Settings
------------------------------------
Observer=Ethan Chappel
Location=Cibolo, TX, USA
Scope=Celstron C14 EdgeHD
Camera=ZWO ASI224MC
Filter=RGB
Profile=Mars
Diameter=24.02"
Magnitude=-2.74
CM=200.5°  (during mid of capture)
FocalLength=8450mm (F/23)
Resolution=0.09"
Filename=2018-07-23-0632_7-EC-RGB-Mars.ser
Date=2018_07_23
Start=063131.846
Mid=063246.849
End=063401.852
Start(UT)=063131.846
Mid(UT)=063246.849
End(UT)=063401.852
Duration=150.006s
Date_format=yyyy_MM_dd
Time_format=HHmmss
LT=UT -6h
Frames captured=9368
File type=SER
Binning=no
Bit depth=8bit
Debayer=yes
DebayerAlgorithm=NearestNeighbor
BayerPattern=RG
ROI=340x338
ROI(Offset)=0x0
FPS (avg.)=62
Shutter=16.00ms
Gain=240 (40%)
AutoGain=off
WRed=52 (off)
Brightness=1 (off)
HardwareBin=off
SoftwareGain=10 (off)
USBTraffic=100 (off)
HighSpeed=off
AutoHisto=75 (off)
AutoExposure=off
Gamma=50 (off)
WBlue=95 (off)
FPS=100 (off)
Histogramm(min)=0
Histogramm(max)=63
Histogramm=24%
Noise(avg.deviation)=0.43
Limit=150 Seconds
Sensor temperature=33.7°C