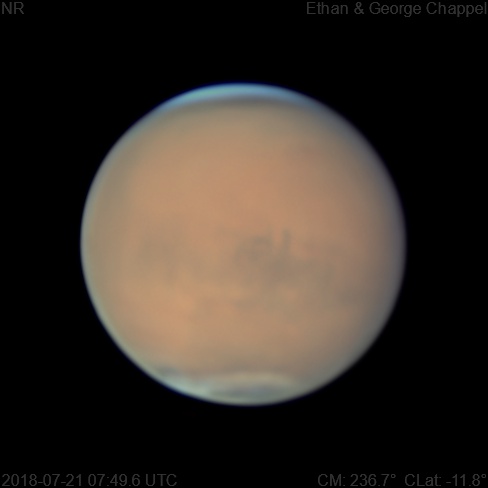 Mars UTC
CM1: 236.70°
CLat: -11.80°
Description
Seeing became great while capturing this final visible light photo of Mars for the night.

Notes:

Syrtis Major is rising.
Hellas Basin is rising.
Mare Cimmerium is visible despite the global dust storm.
The South Polar Cap is covered by the dust storm.
The SPC on visible hemisphere has a dark center with a brighter perimeter.
Equipment
ZWO ASI290MM
Astro-Physics Advanced Convertible Barlow
Celestron EdgeHD 14
Logs
FireCapture v2.6  Settings
------------------------------------
Observer=Ethan Chappel
Location=Cibolo, TX, USA
Scope=Celstron C14 EdgeHD
Camera=ZWO ASI290MM
Filter=B
Profile=Mars
Diameter=23.87"
Magnitude=-2.71
CM=236.2°  (during mid of capture)
FocalLength=8700mm (F/24)
Resolution=0.07"
Filename=2018-07-21-0746_4-EC-B-Mars.ser
Date=210718
Start=074514.687
Mid=074629.690
End=074744.693
Start(UT)=074514.687
Mid(UT)=074629.690
End(UT)=074744.693
Duration=150.006s
Date_format=ddMMyy
Time_format=HHmmss
LT=UT -6h
Frames captured=11938
File type=SER
Binning=no
Bit depth=8bit
Debayer=no
ROI=428x414
ROI(Offset)=0x0
FPS (avg.)=79
Shutter=12.56ms
Gain=280 (46%)
AutoExposure=off
Brightness=1 (off)
USBTraffic=40 (off)
SoftwareGain=10 (off)
AutoGain=off
AutoHisto=75 (off)
FPS=100 (off)
Gamma=50
HighSpeed=off
Histogramm(min)=0
Histogramm(max)=116
Histogramm=45%
Noise(avg.deviation)=0.88
Limit=150 Seconds
Sensor temperature=33.2°C
Focuser position=1835
FireCapture v2.6  Settings
------------------------------------
Observer=Ethan Chappel
Location=Cibolo, TX, USA
Scope=Celstron C14 EdgeHD
Camera=ZWO ASI290MM
Filter=G
Profile=Mars
Diameter=23.87"
Magnitude=-2.71
CM=235.2°  (during mid of capture)
FocalLength=8600mm (F/24)
Resolution=0.07"
Filename=2018-07-21-0742_5-EC-G-Mars.ser
Date=210718
Start=074117.847
Mid=074232.850
End=074347.854
Start(UT)=074117.847
Mid(UT)=074232.850
End(UT)=074347.854
Duration=150.007s
Date_format=ddMMyy
Time_format=HHmmss
LT=UT -6h
Frames captured=14991
File type=SER
Binning=no
Bit depth=8bit
Debayer=no
ROI=428x414
ROI(Offset)=0x0
FPS (avg.)=99
Shutter=10.00ms
Gain=230 (38%)
AutoExposure=off
Brightness=1 (off)
USBTraffic=40 (off)
SoftwareGain=10 (off)
AutoGain=off
AutoHisto=75 (off)
FPS=100 (off)
Gamma=50 (off)
HighSpeed=off
Histogramm(min)=0
Histogramm(max)=120
Histogramm=47%
Noise(avg.deviation)=0.66
Limit=150 Seconds
Sensor temperature=33.8°C
Focuser position=1895
FireCapture v2.6  Settings
------------------------------------
Observer=Ethan Chappel
Location=Cibolo, TX, USA
Scope=Celstron C14 EdgeHD
Camera=ZWO ASI290MM
Filter=R
Profile=Mars
Diameter=23.87"
Magnitude=-2.71
CM=234.3°  (during mid of capture)
FocalLength=8550mm (F/24)
Resolution=0.07"
Filename=2018-07-21-0738_7-EC-R-Mars.ser
Date=210718
Start=073731.613
Mid=073846.613
End=074001.613
Start(UT)=073731.613
Mid(UT)=073846.613
End(UT)=074001.613
Duration=150.000s
Date_format=ddMMyy
Time_format=HHmmss
LT=UT -6h
Frames captured=16665
File type=SER
Binning=no
Bit depth=8bit
Debayer=no
ROI=428x414
ROI(Offset)=0x0
FPS (avg.)=111
Shutter=9.000ms
Gain=180 (30%)
AutoExposure=off
Brightness=1 (off)
USBTraffic=40 (off)
SoftwareGain=10 (off)
AutoGain=off
AutoHisto=75 (off)
FPS=100 (off)
Gamma=50 (off)
HighSpeed=off
Histogramm(min)=0
Histogramm(max)=130
Histogramm=50%
Noise(avg.deviation)=0.49
Limit=150 Seconds
Sensor temperature=33.7°C
Focuser position=1945
FireCapture v2.6  Settings
------------------------------------
Observer=Ethan Chappel
Location=Cibolo, TX, USA
Scope=Celstron C14 EdgeHD
Camera=ZWO ASI290MM
Filter=B
Profile=Mars
Diameter=23.87"
Magnitude=-2.71
CM=239.7°  (during mid of capture)
FocalLength=8650mm (F/24)
Resolution=0.07"
Filename=2018-07-21-0800_6-EC-B-Mars.ser
Date=210718
Start=075924.277
Mid=080039.281
End=080154.286
Start(UT)=075924.277
Mid(UT)=080039.281
End(UT)=080154.286
Duration=150.009s
Date_format=ddMMyy
Time_format=HHmmss
LT=UT -6h
Frames captured=11938
File type=SER
Binning=no
Bit depth=8bit
Debayer=no
ROI=428x414
ROI(Offset)=0x0
FPS (avg.)=79
Shutter=12.56ms
Gain=280 (46%)
AutoExposure=off
Brightness=1 (off)
USBTraffic=40 (off)
SoftwareGain=10 (off)
AutoGain=off
AutoHisto=75 (off)
FPS=100 (off)
Gamma=50
HighSpeed=off
Histogramm(min)=0
Histogramm(max)=124
Histogramm=48%
Noise(avg.deviation)=0.91
Limit=150 Seconds
Sensor temperature=33.3°C
Focuser position=1530
FireCapture v2.6  Settings
------------------------------------
Observer=Ethan Chappel
Location=Cibolo, TX, USA
Scope=Celstron C14 EdgeHD
Camera=ZWO ASI290MM
Filter=G
Profile=Mars
Diameter=23.87"
Magnitude=-2.71
CM=238.7°  (during mid of capture)
FocalLength=8500mm (F/23)
Resolution=0.07"
Filename=2018-07-21-0756_5-EC-G-Mars.ser
Date=210718
Start=075518.809
Mid=075633.812
End=075748.815
Start(UT)=075518.809
Mid(UT)=075633.812
End(UT)=075748.815
Duration=150.006s
Date_format=ddMMyy
Time_format=HHmmss
LT=UT -6h
Frames captured=14991
File type=SER
Binning=no
Bit depth=8bit
Debayer=no
ROI=428x414
ROI(Offset)=0x0
FPS (avg.)=99
Shutter=10.00ms
Gain=230 (38%)
AutoExposure=off
Brightness=1 (off)
USBTraffic=40 (off)
SoftwareGain=10 (off)
AutoGain=off
AutoHisto=75 (off)
FPS=100 (off)
Gamma=50 (off)
HighSpeed=off
Histogramm(min)=0
Histogramm(max)=107
Histogramm=41%
Noise(avg.deviation)=0.61
Limit=150 Seconds
Sensor temperature=33.8°C
Focuser position=1565
FireCapture v2.6  Settings
------------------------------------
Observer=Ethan Chappel
Location=Cibolo, TX, USA
Scope=Celstron C14 EdgeHD
Camera=ZWO ASI290MM
Filter=R
Profile=Mars
Diameter=23.87"
Magnitude=-2.71
CM=237.8°  (during mid of capture)
FocalLength=8500mm (F/23)
Resolution=0.07"
Filename=2018-07-21-0753_1-EC-R-Mars.ser
Date=210718
Start=075153.103
Mid=075308.109
End=075423.116
Start(UT)=075153.103
Mid(UT)=075308.109
End(UT)=075423.116
Duration=150.013s
Date_format=ddMMyy
Time_format=HHmmss
LT=UT -6h
Frames captured=16668
File type=SER
Binning=no
Bit depth=8bit
Debayer=no
ROI=428x414
ROI(Offset)=0x0
FPS (avg.)=111
Shutter=9.000ms
Gain=180 (30%)
AutoExposure=off
Brightness=1 (off)
USBTraffic=40 (off)
SoftwareGain=10 (off)
AutoGain=off
AutoHisto=75 (off)
FPS=100 (off)
Gamma=50 (off)
HighSpeed=off
Histogramm(min)=0
Histogramm(max)=119
Histogramm=46%
Noise(avg.deviation)=0.49
Limit=150 Seconds
Sensor temperature=33.8°C
Focuser position=1655