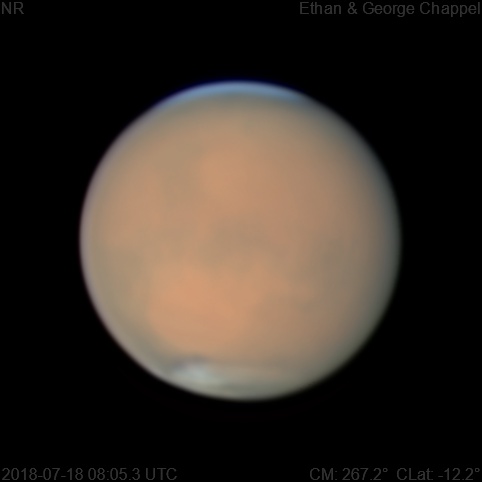 Mars UTC
CM1: 263.40°
CLat: -12.20°
Description
Seeing remained decent. After this photo, clouds from the south took over the sky and ended the night of imaging.

Notes:

There's a faint cloud above the dust storm in much of the southern hemisphere east of the central meridian. At this point, it has become fainter than earlier in the night.
Mare Cimmerium is setting.
Most of the south polar cap is covered by dust. The cap also appears to have a hole.
Hellas Basin is under a bright cloud of dust.
Equipment
ZWO ASI290MM
Astro-Physics Advanced Convertible Barlow
Celestron EdgeHD 14
Logs
FireCapture v2.6  Settings
------------------------------------
Observer=Ethan Chappel
Location=Cibolo, TX, USA
Scope=Celstron C14 EdgeHD
Camera=ZWO ASI290MM
Filter=B
Profile=Mars
Diameter=23.58"
Magnitude=-2.64
CM=267.3°  (during mid of capture)
FocalLength=8750mm (F/24)
Resolution=0.07"
Filename=2018-07-18-0804_5-EC-B-Mars.ser
Date=180718
Start=080316.370
Mid=080431.376
End=080546.382
Start(UT)=080316.370
Mid(UT)=080431.376
End(UT)=080546.382
Duration=150.012s
Date_format=ddMMyy
Time_format=HHmmss
LT=UT -6h
Frames captured=11938
File type=SER
Binning=no
Bit depth=8bit
Debayer=no
ROI=428x414
ROI(Offset)=0x0
FPS (avg.)=79
Shutter=12.56ms
Gain=280 (46%)
AutoHisto=75 (off)
FPS=100 (off)
Gamma=50
Brightness=1 (off)
AutoExposure=off
AutoGain=off
HighSpeed=off
USBTraffic=40 (off)
SoftwareGain=10 (off)
Histogramm(min)=0
Histogramm(max)=126
Histogramm=49%
Noise(avg.deviation)=0.84
Limit=150 Seconds
Sensor temperature=33.1°C
Focuser position=1506
FireCapture v2.6  Settings
------------------------------------
Observer=Ethan Chappel
Location=Cibolo, TX, USA
Scope=Celstron C14 EdgeHD
Camera=ZWO ASI290MM
Filter=G
Profile=Mars
Diameter=23.58"
Magnitude=-2.64
CM=266.1°  (during mid of capture)
FocalLength=8450mm (F/23)
Resolution=0.07"
Filename=2018-07-18-0759_9-EC-G-Mars.ser
Date=180718
Start=075839.561
Mid=075954.561
End=080109.561
Start(UT)=075839.561
Mid(UT)=075954.561
End(UT)=080109.561
Duration=150.000s
Date_format=ddMMyy
Time_format=HHmmss
LT=UT -6h
Frames captured=13486
File type=SER
Binning=no
Bit depth=8bit
Debayer=no
ROI=428x414
ROI(Offset)=0x0
FPS (avg.)=89
Shutter=11.12ms
Gain=219 (36%)
AutoHisto=75 (off)
FPS=100 (off)
Gamma=50 (off)
Brightness=1 (off)
AutoExposure=off
AutoGain=off
HighSpeed=off
USBTraffic=40 (off)
SoftwareGain=10 (off)
Histogramm(min)=0
Histogramm(max)=99
Histogramm=38%
Noise(avg.deviation)=0.53
Limit=150 Seconds
Sensor temperature=33.3°C
Focuser position=1506
FireCapture v2.6  Settings
------------------------------------
Observer=Ethan Chappel
Location=Cibolo, TX, USA
Scope=Celstron C14 EdgeHD
Camera=ZWO ASI290MM
Filter=R
Profile=Mars
Diameter=23.58"
Magnitude=-2.64
CM=263.7°  (during mid of capture)
FocalLength=8450mm (F/23)
Resolution=0.07"
Filename=2018-07-18-0750_0-EC-R-Mars.ser
Date=180718
Start=074845.514
Mid=075000.521
End=075115.528
Start(UT)=074845.514
Mid(UT)=075000.521
End(UT)=075115.528
Duration=150.014s
Date_format=ddMMyy
Time_format=HHmmss
LT=UT -6h
Frames captured=14990
File type=SER
Binning=no
Bit depth=8bit
Debayer=no
ROI=428x414
ROI(Offset)=0x0
FPS (avg.)=99
Shutter=10.00ms
Gain=175 (29%)
AutoHisto=75 (off)
FPS=100 (off)
Gamma=50 (off)
Brightness=1 (off)
AutoExposure=off
AutoGain=off
HighSpeed=off
USBTraffic=40 (off)
SoftwareGain=10 (off)
Histogramm(min)=0
Histogramm(max)=115
Histogramm=45%
Noise(avg.deviation)=0.45
Limit=150 Seconds
Sensor temperature=33.3°C
Focuser position=3436
FireCapture v2.6  Settings
------------------------------------
Observer=Ethan Chappel
Location=Cibolo, TX, USA
Scope=Celstron C14 EdgeHD
Camera=ZWO ASI290MM
Filter=R
Profile=Mars
Diameter=23.58"
Magnitude=-2.64
CM=268.2°  (during mid of capture)
FocalLength=8300mm (F/23)
Resolution=0.07"
Filename=2018-07-18-0808_3-EC-R-Mars.ser
Date=180718
Start=080708.880
Mid=080823.882
End=080938.884
Start(UT)=080708.880
Mid(UT)=080823.882
End(UT)=080938.884
Duration=150.004s
Date_format=ddMMyy
Time_format=HHmmss
LT=UT -6h
Frames captured=14991
File type=SER
Binning=no
Bit depth=8bit
Debayer=no
ROI=428x414
ROI(Offset)=0x0
FPS (avg.)=99
Shutter=10.00ms
Gain=175 (29%)
AutoHisto=75 (off)
FPS=100 (off)
Gamma=50 (off)
Brightness=1 (off)
AutoExposure=off
AutoGain=off
HighSpeed=off
USBTraffic=40 (off)
SoftwareGain=10 (off)
Histogramm(min)=0
Histogramm(max)=122
Histogramm=47%
Noise(avg.deviation)=0.42
Limit=150 Seconds
Sensor temperature=33.3°C
Focuser position=1526
FireCapture v2.6  Settings
------------------------------------
Observer=Ethan Chappel
Location=Cibolo, TX, USA
Scope=Celstron C14 EdgeHD
Camera=ZWO ASI290MM
Filter=B
Profile=Mars
Diameter=23.58"
Magnitude=-2.64
CM=270.1°  (during mid of capture)
FocalLength=8550mm (F/24)
Resolution=0.07"
Filename=2018-07-18-0816_1-EC-B-Mars.ser
Date=180718
Start=081455.388
Mid=081610.389
End=081725.391
Start(UT)=081455.388
Mid(UT)=081610.389
End(UT)=081725.391
Duration=150.003s
Date_format=ddMMyy
Time_format=HHmmss
LT=UT -6h
Frames captured=11937
File type=SER
Binning=no
Bit depth=8bit
Debayer=no
ROI=428x414
ROI(Offset)=0x0
FPS (avg.)=79
Shutter=12.56ms
Gain=280 (46%)
AutoHisto=75 (off)
FPS=100 (off)
Gamma=50
Brightness=1 (off)
AutoExposure=off
AutoGain=off
HighSpeed=off
USBTraffic=40 (off)
SoftwareGain=10 (off)
Histogramm(min)=0
Histogramm(max)=109
Histogramm=42%
Noise(avg.deviation)=0.78
Limit=150 Seconds
Sensor temperature=33.2°C
Focuser position=1456
FireCapture v2.6  Settings
------------------------------------
Observer=Ethan Chappel
Location=Cibolo, TX, USA
Scope=Celstron C14 EdgeHD
Camera=ZWO ASI290MM
Filter=G
Profile=Mars
Diameter=23.58"
Magnitude=-2.64
CM=269.3°  (during mid of capture)
FocalLength=8400mm (F/23)
Resolution=0.07"
Filename=2018-07-18-0812_7-EC-G-Mars.ser
Date=180718
Start=081128.565
Mid=081243.568
End=081358.572
Start(UT)=081128.565
Mid(UT)=081243.568
End(UT)=081358.572
Duration=150.007s
Date_format=ddMMyy
Time_format=HHmmss
LT=UT -6h
Frames captured=13486
File type=SER
Binning=no
Bit depth=8bit
Debayer=no
ROI=428x414
ROI(Offset)=0x0
FPS (avg.)=89
Shutter=11.12ms
Gain=219 (36%)
AutoHisto=75 (off)
FPS=100 (off)
Gamma=50 (off)
Brightness=1 (off)
AutoExposure=off
AutoGain=off
HighSpeed=off
USBTraffic=40 (off)
SoftwareGain=10 (off)
Histogramm(min)=0
Histogramm(max)=111
Histogramm=43%
Noise(avg.deviation)=0.55
Limit=150 Seconds
Sensor temperature=33.5°C
Focuser position=1486