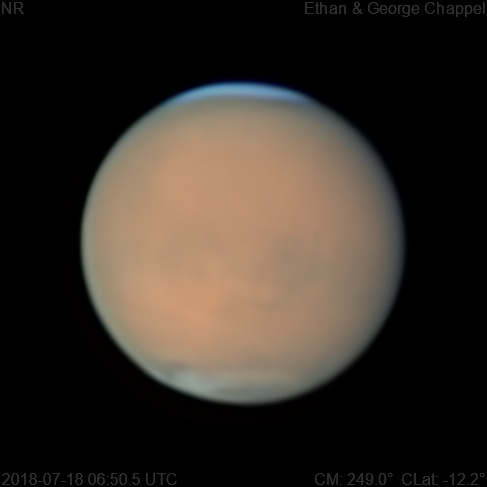 Mars UTC
CM1: 249.00°
CLat: -12.20°
Description
Seeing continued to be decent. Saharan dust limited transparency, but not as much as the previous night.

Notes:

Syrtis Major is rising.
There's a faint cloud above the dust storm in much of the southern hemisphere east of the central meridian.
Mare Tyrrhenum is hidden under a completely opaque part of the dust storm
Mare Cimmerium is relatively visible.
The brightness of the south polar cap is muted by the dust storm. The cap also appears to have a hole.
Equipment
ZWO ASI290MM
Astro-Physics Advanced Convertible Barlow
Celestron EdgeHD 14
Logs
FireCapture v2.6  Settings
------------------------------------
Observer=Ethan Chappel
Location=Cibolo, TX, USA
Scope=Celstron C14 EdgeHD
Camera=ZWO ASI290MM
Filter=B
Profile=Mars
Diameter=23.57"
Magnitude=-2.64
CM=248.7°  (during mid of capture)
FocalLength=8850mm (F/24)
Resolution=0.07"
Filename=2018-07-18-0648_3-EC-B-Mars.ser
Date=180718
Start=064703.182
Mid=064818.178
End=064933.175
Start(UT)=064703.182
Mid(UT)=064818.178
End(UT)=064933.175
Duration=149.993s
Date_format=ddMMyy
Time_format=HHmmss
LT=UT -6h
Frames captured=11937
File type=SER
Binning=no
Bit depth=8bit
Debayer=no
ROI=428x414
ROI(Offset)=0x0
FPS (avg.)=79
Shutter=12.56ms
Gain=280 (46%)
Gamma=50
Brightness=1 (off)
AutoHisto=75 (off)
SoftwareGain=10 (off)
USBTraffic=40 (off)
AutoGain=off
HighSpeed=off
AutoExposure=off
FPS=100 (off)
Histogramm(min)=0
Histogramm(max)=129
Histogramm=50%
Noise(avg.deviation)=0.91
Limit=150 Seconds
Sensor temperature=33.7°C
Focuser position=3206
FireCapture v2.6  Settings
------------------------------------
Observer=Ethan Chappel
Location=Cibolo, TX, USA
Scope=Celstron C14 EdgeHD
Camera=ZWO ASI290MM
Filter=G
Profile=Mars
Diameter=23.57"
Magnitude=-2.64
CM=247.4°  (during mid of capture)
FocalLength=8650mm (F/24)
Resolution=0.07"
Filename=2018-07-18-0642_9-EC-G-Mars.ser
Date=180718
Start=064141.053
Mid=064256.058
End=064411.063
Start(UT)=064141.053
Mid(UT)=064256.058
End(UT)=064411.063
Duration=150.010s
Date_format=ddMMyy
Time_format=HHmmss
LT=UT -6h
Frames captured=13488
File type=SER
Binning=no
Bit depth=8bit
Debayer=no
ROI=428x414
ROI(Offset)=0x0
FPS (avg.)=89
Shutter=11.12ms
Gain=219 (36%)
Gamma=50 (off)
Brightness=1 (off)
AutoHisto=75 (off)
SoftwareGain=10 (off)
USBTraffic=40 (off)
AutoGain=off
HighSpeed=off
AutoExposure=off
FPS=100 (off)
Histogramm(min)=0
Histogramm(max)=118
Histogramm=46%
Noise(avg.deviation)=0.59
Limit=150 Seconds
Sensor temperature=34.1°C
Focuser position=3236
FireCapture v2.6  Settings
------------------------------------
Observer=Ethan Chappel
Location=Cibolo, TX, USA
Scope=Celstron C14 EdgeHD
Camera=ZWO ASI290MM
Filter=R
Profile=Mars
Diameter=23.57"
Magnitude=-2.64
CM=246.4°  (during mid of capture)
FocalLength=8600mm (F/24)
Resolution=0.07"
Filename=2018-07-18-0638_8-EC-R-Mars.ser
Date=180718
Start=063735.868
Mid=063850.873
End=064005.878
Start(UT)=063735.868
Mid(UT)=063850.873
End(UT)=064005.878
Duration=150.010s
Date_format=ddMMyy
Time_format=HHmmss
LT=UT -6h
Frames captured=14990
File type=SER
Binning=no
Bit depth=8bit
Debayer=no
ROI=428x414
ROI(Offset)=0x0
FPS (avg.)=99
Shutter=10.00ms
Gain=175 (29%)
Gamma=50 (off)
Brightness=1 (off)
AutoHisto=75 (off)
SoftwareGain=10 (off)
USBTraffic=40 (off)
AutoGain=off
HighSpeed=off
AutoExposure=off
FPS=100 (off)
Histogramm(min)=0
Histogramm(max)=128
Histogramm=50%
Noise(avg.deviation)=0.49
Limit=150 Seconds
Sensor temperature=34.3°C
Focuser position=3186
FireCapture v2.6  Settings
------------------------------------
Observer=Ethan Chappel
Location=Cibolo, TX, USA
Scope=Celstron C14 EdgeHD
Camera=ZWO ASI290MM
Filter=B
Profile=Mars
Diameter=23.57"
Magnitude=-2.64
CM=252.5°  (during mid of capture)
FocalLength=8700mm (F/24)
Resolution=0.07"
Filename=2018-07-18-0704_1-EC-B-Mars.ser
Date=180718
Start=070254.212
Mid=070409.217
End=070524.222
Start(UT)=070254.212
Mid(UT)=070409.217
End(UT)=070524.222
Duration=150.010s
Date_format=ddMMyy
Time_format=HHmmss
LT=UT -6h
Frames captured=11938
File type=SER
Binning=no
Bit depth=8bit
Debayer=no
ROI=428x414
ROI(Offset)=0x0
FPS (avg.)=79
Shutter=12.56ms
Gain=280 (46%)
Gamma=50
Brightness=1 (off)
AutoHisto=75 (off)
SoftwareGain=10 (off)
USBTraffic=40 (off)
AutoGain=off
HighSpeed=off
AutoExposure=off
FPS=100 (off)
Histogramm(min)=0
Histogramm(max)=108
Histogramm=42%
Noise(avg.deviation)=0.84
Limit=150 Seconds
Sensor temperature=33.3°C
Focuser position=3296
FireCapture v2.6  Settings
------------------------------------
Observer=Ethan Chappel
Location=Cibolo, TX, USA
Scope=Celstron C14 EdgeHD
Camera=ZWO ASI290MM
Filter=G
Profile=Mars
Diameter=23.57"
Magnitude=-2.64
CM=250.8°  (during mid of capture)
FocalLength=8650mm (F/24)
Resolution=0.07"
Filename=2018-07-18-0657_0-EC-G-Mars.ser
Date=180718
Start=065548.688
Mid=065703.695
End=065818.703
Start(UT)=065548.688
Mid(UT)=065703.695
End(UT)=065818.703
Duration=150.015s
Date_format=ddMMyy
Time_format=HHmmss
LT=UT -6h
Frames captured=13488
File type=SER
Binning=no
Bit depth=8bit
Debayer=no
ROI=428x414
ROI(Offset)=0x0
FPS (avg.)=89
Shutter=11.12ms
Gain=219 (36%)
Gamma=50 (off)
Brightness=1 (off)
AutoHisto=75 (off)
SoftwareGain=10 (off)
USBTraffic=40 (off)
AutoGain=off
HighSpeed=off
AutoExposure=off
FPS=100 (off)
Histogramm(min)=0
Histogramm(max)=131
Histogramm=51%
Noise(avg.deviation)=0.63
Limit=150 Seconds
Sensor temperature=33.8°C
Focuser position=3306
FireCapture v2.6  Settings
------------------------------------
Observer=Ethan Chappel
Location=Cibolo, TX, USA
Scope=Celstron C14 EdgeHD
Camera=ZWO ASI290MM
Filter=R
Profile=Mars
Diameter=23.57"
Magnitude=-2.64
CM=249.5°  (during mid of capture)
FocalLength=8600mm (F/24)
Resolution=0.07"
Filename=2018-07-18-0651_7-EC-R-Mars.ser
Date=180718
Start=065032.399
Mid=065147.404
End=065302.409
Start(UT)=065032.399
Mid(UT)=065147.404
End(UT)=065302.409
Duration=150.010s
Date_format=ddMMyy
Time_format=HHmmss
LT=UT -6h
Frames captured=14991
File type=SER
Binning=no
Bit depth=8bit
Debayer=no
ROI=428x414
ROI(Offset)=0x0
FPS (avg.)=99
Shutter=10.00ms
Gain=175 (29%)
Gamma=50 (off)
Brightness=1 (off)
AutoHisto=75 (off)
SoftwareGain=10 (off)
USBTraffic=40 (off)
AutoGain=off
HighSpeed=off
AutoExposure=off
FPS=100 (off)
Histogramm(min)=0
Histogramm(max)=125
Histogramm=49%
Noise(avg.deviation)=0.47
Limit=150 Seconds
Sensor temperature=33.8°C
Focuser position=3251