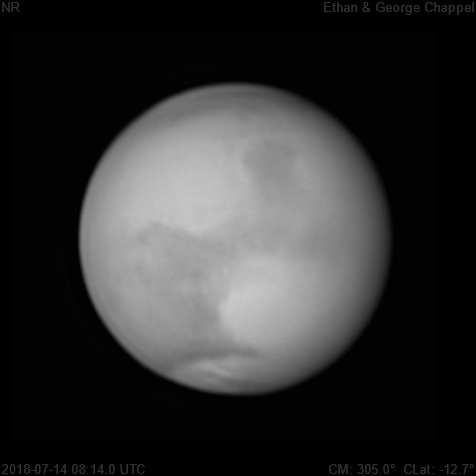 Mars UTC
CM1: 305.00°
CLat: -12.70°
Description
Before clouds took over the sky, I felt the need to capture an IR photo. Seeing remained great, but clouds decreased transparency.

Notes:

Part of Sinus Meridiani is completely obscured by airborne dust.
Syrtis Major is past the CM.
The opaque (in visible light) cloud over Hellas Basin and the surrounding area is more transparent in IR.
Equipment
ZWO ASI290MM
Astro-Physics Advanced Convertible Barlow
Celestron EdgeHD 14
Logs
FireCapture v2.6  Settings
------------------------------------
Observer=Ethan Chappel
Location=Cibolo, TX, USA
Scope=Celstron C14 EdgeHD
Camera=ZWO ASI290MM
Filter=IR
Profile=Mars
Diameter=23.09"
Magnitude=-2.55
CM=305.2°  (during mid of capture)
FocalLength=8100mm (F/22)
Resolution=0.07"
Filename=2018-07-14-0814_0-EC-IR-Mars.ser
Date=140718
Start=081323.412
Mid=081403.641
End=081443.871
Start(UT)=081323.412
Mid(UT)=081403.641
End(UT)=081443.871
Duration=80.459s
Date_format=ddMMyy
Time_format=HHmmss
LT=UT -6h
Frames captured=9770
File type=SER
Binning=no
Bit depth=8bit
Debayer=no
ROI=428x414
ROI(Offset)=0x0
FPS (avg.)=121
Shutter=8.226ms
Gain=197 (32%)
AutoGain=off
FPS=100 (off)
Gamma=50
Brightness=1 (off)
HighSpeed=off
SoftwareGain=10 (off)
AutoHisto=75 (off)
USBTraffic=40 (off)
AutoExposure=off
Histogramm(min)=0
Histogramm(max)=126
Histogramm=49%
Noise(avg.deviation)=0.78
Limit=150 Seconds
Sensor temperature=33.2°C
Focuser position=1904