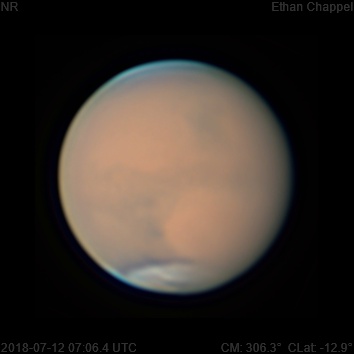 Mars UTC
CM1: 306.30°
CLat: -12.90°
Description
The night started out with excellent seeing!

Notes:

The entire planet is shrouded by the dust storm.
Syrtis Major is past the central meridian.
Hellas Basin and the surrounding area appear to be obscured by a completely opaque cloud of dust.
Several marking are visible on the south polar cap.
Equipment
Celestron X-Cel 3x
ZWO ASI224MC
Celestron EdgeHD 8
Logs
FireCapture v2.6  Settings
------------------------------------
Observer=Ethan Chappel
Location=Cibolo, TX, USA
Scope=Celstron C14 EdgeHD
Camera=ZWO ASI224MC
Filter=RGB
Profile=Mars
Diameter=22.79"
Magnitude=-2.49
CM=306.7°  (during mid of capture)
FocalLength=8450mm (F/23)
Resolution=0.09"
Filename=2018-07-12-0706_7-EC-RGB-Mars.ser
Date=120718
Start=070531.220
Mid=070646.225
End=070801.231
Start(UT)=070531.220
Mid(UT)=070646.225
End(UT)=070801.231
Duration=150.011s
Date_format=ddMMyy
Time_format=HHmmss
LT=UT -6h
Frames captured=9368
File type=SER
Binning=no
Bit depth=8bit
Debayer=yes
DebayerAlgorithm=NearestNeighbor
BayerPattern=RG
ROI=356x350
ROI(Offset)=0x0
FPS (avg.)=62
Shutter=16.00ms
Gain=240 (40%)
USBTraffic=100 (off)
SoftwareGain=10 (off)
WRed=52 (off)
HighSpeed=off
HardwareBin=off
Gamma=50 (off)
Brightness=1 (off)
WBlue=95 (off)
AutoGain=off
AutoExposure=off
AutoHisto=75 (off)
FPS=100 (off)
Histogramm(min)=0
Histogramm(max)=70
Histogramm=27%
Noise(avg.deviation)=0.23
Limit=150 Seconds
Sensor temperature=32.0°C
FireCapture v2.6  Settings
------------------------------------
Observer=Ethan Chappel
Location=Cibolo, TX, USA
Scope=Celstron C14 EdgeHD
Camera=ZWO ASI224MC
Filter=RGB
Profile=Mars
Diameter=22.79"
Magnitude=-2.49
CM=305.8°  (during mid of capture)
FocalLength=8450mm (F/23)
Resolution=0.09"
Filename=2018-07-12-0703_1-EC-RGB-Mars.ser
Date=120718
Start=070156.078
Mid=070311.082
End=070426.087
Start(UT)=070156.078
Mid(UT)=070311.082
End(UT)=070426.087
Duration=150.009s
Date_format=ddMMyy
Time_format=HHmmss
LT=UT -6h
Frames captured=8837
File type=SER
Binning=no
Bit depth=8bit
Debayer=yes
DebayerAlgorithm=NearestNeighbor
BayerPattern=RG
ROI=356x350
ROI(Offset)=0x0
FPS (avg.)=58
Shutter=16.00ms
Gain=240 (40%)
USBTraffic=100 (off)
SoftwareGain=10 (off)
WRed=52 (off)
HighSpeed=off
HardwareBin=off
Gamma=50 (off)
Brightness=1 (off)
WBlue=95 (off)
AutoGain=off
AutoExposure=off
AutoHisto=75 (off)
FPS=100 (off)
Histogramm(min)=0
Histogramm(max)=77
Histogramm=30%
Noise(avg.deviation)=0.25
Limit=150 Seconds
Sensor temperature=32.0°C
FireCapture v2.6  Settings
------------------------------------
Observer=Ethan Chappel
Location=Cibolo, TX, USA
Scope=Celstron C14 EdgeHD
Camera=ZWO ASI224MC
Filter=RGB
Profile=Mars
Diameter=22.79"
Magnitude=-2.49
CM=307.3°  (during mid of capture)
FocalLength=8500mm (F/23)
Resolution=0.09"
Filename=2018-07-12-0709_4-EC-RGB-Mars.ser
Date=120718
Start=070809.271
Mid=070924.277
End=071039.284
Start(UT)=070809.271
Mid(UT)=070924.277
End(UT)=071039.284
Duration=150.013s
Date_format=ddMMyy
Time_format=HHmmss
LT=UT -6h
Frames captured=9369
File type=SER
Binning=no
Bit depth=8bit
Debayer=yes
DebayerAlgorithm=NearestNeighbor
BayerPattern=RG
ROI=356x350
ROI(Offset)=0x0
FPS (avg.)=62
Shutter=16.00ms
Gain=240 (40%)
USBTraffic=100 (off)
SoftwareGain=10 (off)
WRed=52 (off)
HighSpeed=off
HardwareBin=off
Gamma=50 (off)
Brightness=1 (off)
WBlue=95 (off)
AutoGain=off
AutoExposure=off
AutoHisto=75 (off)
FPS=100 (off)
Histogramm(min)=0
Histogramm(max)=74
Histogramm=10%
Noise(avg.deviation)=0.24
Limit=150 Seconds
Sensor temperature=32.0°C