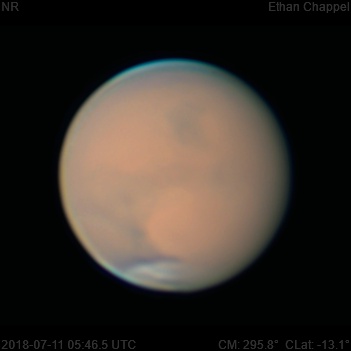 Mars UTC
CM1: 295.50°
CLat: -13.10°
Description
Seeing started out great for Mars. Clouds weren't present unlike the previous night.

Notes:

The entire atmosphere of the planet is nearly opaque from the dust storm.
Hellas Basin is just passed the CM and appears to be filled with dust.
The part of the SPC east of the CM appears to be covered by a thicker layer of dust than the area west of it.
Equipment
Celestron X-Cel 3x
ZWO ASI224MC
Celestron EdgeHD 8
Logs
FireCapture v2.6  Settings
------------------------------------
Observer=Ethan Chappel
Location=Cibolo, TX, USA
Scope=Celstron C14 EdgeHD
Camera=ZWO ASI224MC
Filter=RGB
Profile=Mars
Diameter=22.64"
Magnitude=-2.46
CM=298.0°  (during mid of capture)
FocalLength=8350mm (F/23)
Resolution=0.09"
Filename=2018-07-11-0554_3-EC-RGB-Mars.ser
Date=110718
Start=055304.354
Mid=055419.368
End=055534.383
Start(UT)=055304.354
Mid(UT)=055419.368
End(UT)=055534.383
Duration=150.029s
Date_format=ddMMyy
Time_format=HHmmss
LT=UT -6h
Frames captured=4834
File type=SER
Binning=no
Bit depth=8bit
Debayer=yes
DebayerAlgorithm=NearestNeighbor
BayerPattern=RG
ROI=308x312
ROI(Offset)=0x0
FPS (avg.)=32
Shutter=30.00ms
Gain=200 (33%)
AutoHisto=75 (off)
AutoGain=off
SoftwareGain=10 (off)
FPS=100 (off)
HighSpeed=off
USBTraffic=100 (off)
Brightness=1 (off)
Gamma=50 (off)
WBlue=95 (off)
AutoExposure=off
WRed=52 (off)
HardwareBin=off
Histogramm(min)=0
Histogramm(max)=65
Histogramm=25%
Noise(avg.deviation)=0.18
Limit=150 Seconds
Sensor temperature=32.2°C
FireCapture v2.6  Settings
------------------------------------
Observer=Ethan Chappel
Location=Cibolo, TX, USA
Scope=Celstron C14 EdgeHD
Camera=ZWO ASI224MC
Filter=RGB
Profile=Mars
Diameter=22.64"
Magnitude=-2.46
CM=296.4°  (during mid of capture)
FocalLength=8450mm (F/23)
Resolution=0.09"
Filename=2018-07-11-0548_0-EC-RGB-Mars.ser
Date=110718
Start=054646.076
Mid=054801.090
End=054916.105
Start(UT)=054646.076
Mid(UT)=054801.090
End(UT)=054916.105
Duration=150.029s
Date_format=ddMMyy
Time_format=HHmmss
LT=UT -6h
Frames captured=5000
File type=SER
Binning=no
Bit depth=8bit
Debayer=yes
DebayerAlgorithm=NearestNeighbor
BayerPattern=RG
ROI=308x312
ROI(Offset)=0x0
FPS (avg.)=33
Shutter=30.00ms
Gain=200 (33%)
AutoHisto=75 (off)
AutoGain=off
SoftwareGain=10 (off)
FPS=100 (off)
HighSpeed=off
USBTraffic=100 (off)
Brightness=1 (off)
Gamma=50 (off)
WBlue=95 (off)
AutoExposure=off
WRed=52 (off)
HardwareBin=off
Histogramm(min)=0
Histogramm(max)=0
Histogramm=0%
Noise(avg.deviation)=n/a
Limit=150 Seconds
Sensor temperature=32.2°C
FireCapture v2.6  Settings
------------------------------------
Observer=Ethan Chappel
Location=Cibolo, TX, USA
Scope=Celstron C14 EdgeHD
Camera=ZWO ASI224MC
Filter=RGB
Profile=Mars
Diameter=22.63"
Magnitude=-2.46
CM=293.8°  (during mid of capture)
FocalLength=8350mm (F/23)
Resolution=0.09"
Filename=2018-07-11-0537_2-EC-RGB-Mars.ser
Date=110718
Start=053557.333
Mid=053712.333
End=053827.333
Start(UT)=053557.333
Mid(UT)=053712.333
End(UT)=053827.333
Duration=150.000s
Date_format=ddMMyy
Time_format=HHmmss
LT=UT -6h
Frames captured=4999
File type=SER
Binning=no
Bit depth=8bit
Debayer=yes
DebayerAlgorithm=NearestNeighbor
BayerPattern=RG
ROI=340x342
ROI(Offset)=0x0
FPS (avg.)=33
Shutter=30.00ms
Gain=200 (33%)
AutoHisto=75 (off)
AutoGain=off
SoftwareGain=10 (off)
FPS=100 (off)
HighSpeed=off
USBTraffic=100 (off)
Brightness=1 (off)
Gamma=50 (off)
WBlue=95 (off)
AutoExposure=off
WRed=52 (off)
HardwareBin=off
Histogramm(min)=0
Histogramm(max)=0
Histogramm=0%
Noise(avg.deviation)=n/a
Limit=150 Seconds
Sensor temperature=32.6°C