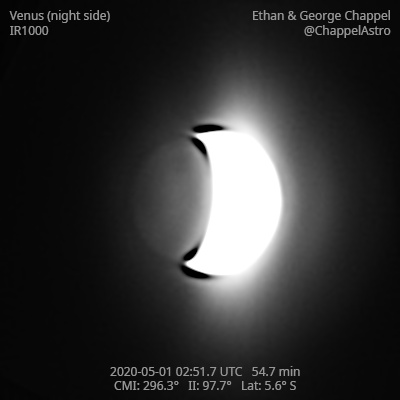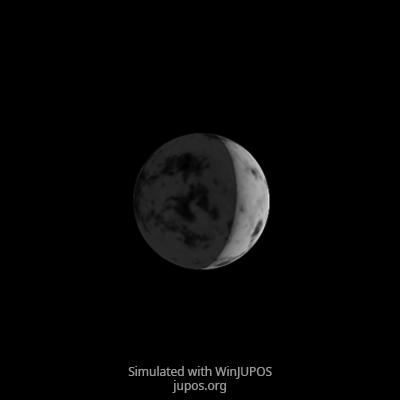 Venus UTC
CM1: 296.30°
CM2: 97.70°
CLat: -5.60°
Description
Very turbulent seeing on this evening. Venus is starting to drop lower at a faster pace. It will be become hard to image in a few weeks.
I rotated the camera occasionally to reduce optical artifacts. Seems to be a strategy that works well.

Notes:
Beta Regio is visible as a dark spot near the crescent.
Atla Regio may be visible on the western limb.
Equipment
ZWO ASI174MM
Celestron EdgeHD 14
Logs
FireCapture v2.6  Settings
------------------------------------
Observer=Ethan Chappel
Camera=ZWO ASI174MM
Filter=IR1000
Profile=Venus
Diameter=38.96"
Magnitude=-4.52
FocalLength=8300mm (F/23)
Resolution=0.15"
Filename=2020-05-01-0319_3-EC-IR1000.ser
Date=2020_05_01
Start=03_14_19.535
Mid=03_19_19.544
End=03_24_19.553
Start(UT)=03_14_19.535
Mid(UT)=03_19_19.544
End(UT)=03_24_19.553
Duration=600.018s
Date_format=yyyy_MM_dd
Time_format=HH_mm_ss
LT=UT -6h
Frames captured=1496
File type=SER
Binning=no
Bit depth=8bit
Debayer=no
ROI=540x522
ROI(Offset)=0x0
FPS (avg.)=2
Shutter=400.0ms
Gain=400 (100%)
SoftwareGain=10 (off)
AutoExposure=off
Brightness=1 (off)
HighSpeed=off
AutoHisto=75 (off)
USBTraffic=80 (off)
Gamma=50
AutoGain=off
FPS=100 (off)
Histogramm(min)=0
Histogramm(max)=253
Histogramm=99%
Noise(avg.deviation)=1.83
AutoAlign=false
PreFilter=none
Limit=600 Seconds
Sensor temperature=26.6°C
Focuser position=670
FireCapture v2.6  Settings
------------------------------------
Observer=Ethan Chappel
Camera=ZWO ASI174MM
Filter=IR1000
Profile=Venus
Diameter=38.96"
Magnitude=-4.52
FocalLength=8550mm (F/24)
Resolution=0.14"
Filename=2020-05-01-0308_2-EC-IR1000.ser
Date=2020_05_01
Start=03_03_12.766
Mid=03_08_12.863
End=03_13_12.961
Start(UT)=03_03_12.766
Mid(UT)=03_08_12.863
End(UT)=03_13_12.961
Duration=600.195s
Date_format=yyyy_MM_dd
Time_format=HH_mm_ss
LT=UT -6h
Frames captured=1496
File type=SER
Binning=no
Bit depth=8bit
Debayer=no
ROI=540x522
ROI(Offset)=0x0
FPS (avg.)=2
Shutter=400.0ms
Gain=400 (100%)
SoftwareGain=10 (off)
AutoExposure=off
Brightness=1 (off)
HighSpeed=off
AutoHisto=75 (off)
USBTraffic=80 (off)
Gamma=50
AutoGain=off
FPS=100 (off)
Histogramm(min)=0
Histogramm(max)=253
Histogramm=99%
Noise(avg.deviation)=1.87
AutoAlign=false
PreFilter=none
Limit=600 Seconds
Sensor temperature=27.0°C
Focuser position=670
FireCapture v2.6  Settings
------------------------------------
Observer=Ethan Chappel
Camera=ZWO ASI174MM
Filter=IR1000
Profile=Venus
Diameter=38.95"
Magnitude=-4.52
FocalLength=8300mm (F/23)
Resolution=0.15"
Filename=2020-05-01-0257_3-EC-IR1000.ser
Date=2020_05_01
Start=02_52_18.906
Mid=02_57_19.059
End=03_02_19.212
Start(UT)=02_52_18.906
Mid(UT)=02_57_19.059
End(UT)=03_02_19.212
Duration=600.306s
Date_format=yyyy_MM_dd
Time_format=HH_mm_ss
LT=UT -6h
Frames captured=1496
File type=SER
Binning=no
Bit depth=8bit
Debayer=no
ROI=540x522
ROI(Offset)=0x0
FPS (avg.)=2
Shutter=400.0ms
Gain=400 (100%)
SoftwareGain=10 (off)
AutoExposure=off
Brightness=1 (off)
HighSpeed=off
AutoHisto=75 (off)
USBTraffic=80 (off)
Gamma=50
AutoGain=off
FPS=100 (off)
Histogramm(min)=0
Histogramm(max)=253
Histogramm=99%
Noise(avg.deviation)=1.88
AutoAlign=false
PreFilter=none
Limit=600 Seconds
Sensor temperature=27.3°C
Focuser position=670
FireCapture v2.6  Settings
------------------------------------
Observer=Ethan Chappel
Camera=ZWO ASI174MM
Filter=IR1000
Profile=Venus
Diameter=38.95"
Magnitude=-4.52
FocalLength=8800mm (F/24)
Resolution=0.14"
Filename=2020-05-01-0245_9-EC-IR1000.ser
Date=2020_05_01
Start=02_40_57.035
Mid=02_45_57.202
End=02_50_57.370
Start(UT)=02_40_57.035
Mid(UT)=02_45_57.202
End(UT)=02_50_57.370
Duration=600.335s
Date_format=yyyy_MM_dd
Time_format=HH_mm_ss
LT=UT -6h
Frames captured=1496
File type=SER
Binning=no
Bit depth=8bit
Debayer=no
ROI=540x522
ROI(Offset)=0x0
FPS (avg.)=2
Shutter=400.0ms
Gain=400 (100%)
SoftwareGain=10 (off)
AutoExposure=off
Brightness=1 (off)
HighSpeed=off
AutoHisto=75 (off)
USBTraffic=80 (off)
Gamma=50
AutoGain=off
FPS=100 (off)
Histogramm(min)=0
Histogramm(max)=253
Histogramm=99%
Noise(avg.deviation)=1.93
AutoAlign=false
PreFilter=none
Limit=600 Seconds
Sensor temperature=27.7°C
Focuser position=670
FireCapture v2.6  Settings
------------------------------------
Observer=Ethan Chappel
Camera=ZWO ASI174MM
Filter=IR1000
Profile=Venus
Diameter=38.94"
Magnitude=-4.52
FocalLength=8050mm (F/22)
Resolution=0.15"
Filename=2020-05-01-0235_0-EC-IR1000.ser
Date=2020_05_01
Start=02_30_03.924
Mid=02_35_03.973
End=02_40_04.022
Start(UT)=02_30_03.924
Mid(UT)=02_35_03.973
End(UT)=02_40_04.022
Duration=600.098s
Date_format=yyyy_MM_dd
Time_format=HH_mm_ss
LT=UT -6h
Frames captured=1496
File type=SER
Binning=no
Bit depth=8bit
Debayer=no
ROI=540x522
ROI(Offset)=0x0
FPS (avg.)=2
Shutter=400.0ms
Gain=400 (100%)
SoftwareGain=10 (off)
AutoExposure=off
Brightness=1 (off)
HighSpeed=off
AutoHisto=75 (off)
USBTraffic=80 (off)
Gamma=50
AutoGain=off
FPS=100 (off)
Histogramm(min)=0
Histogramm(max)=253
Histogramm=99%
Noise(avg.deviation)=1.91
AutoAlign=false
PreFilter=none
Limit=600 Seconds
Sensor temperature=28.1°C
Focuser position=670
FireCapture v2.6  Settings
------------------------------------
Observer=Ethan Chappel
Camera=ZWO ASI174MM
Filter=IR1000
Profile=Venus
Diameter=38.94"
Magnitude=-4.52
FocalLength=8850mm (F/24)
Resolution=0.14"
Filename=2020-05-01-0224_6-EC-IR1000.ser
Date=2020_05_01
Start=02_19_38.266
Mid=02_24_38.315
End=02_29_38.365
Start(UT)=02_19_38.266
Mid(UT)=02_24_38.315
End(UT)=02_29_38.365
Duration=600.099s
Date_format=yyyy_MM_dd
Time_format=HH_mm_ss
LT=UT -6h
Frames captured=1496
File type=SER
Binning=no
Bit depth=8bit
Debayer=no
ROI=540x522
ROI(Offset)=0x0
FPS (avg.)=2
Shutter=400.0ms
Gain=400 (100%)
SoftwareGain=10 (off)
AutoExposure=off
Brightness=1 (off)
HighSpeed=off
AutoHisto=75 (off)
USBTraffic=80 (off)
Gamma=50
AutoGain=off
FPS=100 (off)
Histogramm(min)=0
Histogramm(max)=253
Histogramm=99%
Noise(avg.deviation)=2.05
AutoAlign=false
PreFilter=none
Limit=600 Seconds
Sensor temperature=29.8°C
Focuser position=670