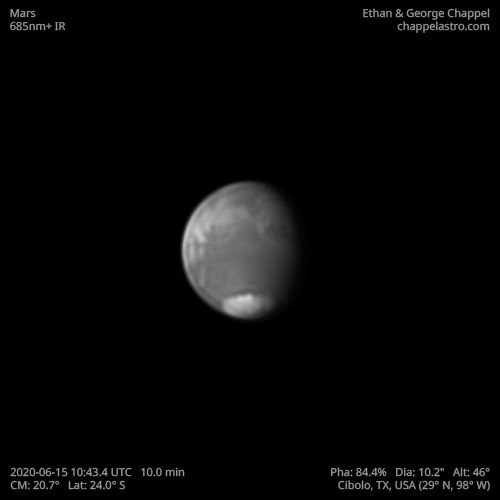 Mars UTC
CM1: 20.70°
CLat: -24.00°
Description
Excellent morning of seeing and transparency.
Notes:
A feature that appears similar to a high altitude plume is extending from the terminator near the South Polar Cap. This feature is more prominent in visible light
Chryse and Niliacus Lacus are on the central meridian.
Valles Marineris and Solis Lacus are rising.
Sinus Meridiani and Sabaeus are setting.
Equipment
ZWO ASI290MM
Astro-Physics Advanced Convertible Barlow
Celestron EdgeHD 14
Logs
FireCapture v2.6  Settings
------------------------------------
Observer=Ethan Chappel
Location=Cibolo
Scope=Celestron C14 EdgeHD
Camera=ZWO ASI290MM
Filter=IR685
Profile=Mars
Diameter=10.23"
Magnitude=-0.24
CM=21.4°  (during mid of capture)
FocalLength=9100mm (F/25)
Resolution=0.07"
Filename=2020-06-15-1045_4-EC-IR685-Mars.ser
Date=2020_06_15
Start=10_44_25.747
Mid=10_45_25.754
End=10_46_25.761
Start(UT)=10_44_25.747
Mid(UT)=10_45_25.754
End(UT)=10_46_25.761
Duration=120.014s
Date_format=yyyy_MM_dd
Time_format=HH_mm_ss
LT=UT -6h
Frames captured=21920
File type=SER
Binning=no
ROI=232x238
ROI(Offset)=352x584
FPS (avg.)=182
Shutter=5.000ms
Gain=320 (53%)
FPS=100 (off)
AutoHisto=75 (off)
Gamma=50 (off)
USBTraffic=100 (off)
AutoGain=off
HighSpeed=off
AutoExposure=off
SoftwareGain=10 (off)
Brightness=1 (off)
Histogramm(min)=0
Histogramm(max)=191
Histogramm=74%
Noise(avg.deviation)=0.69
Limit=120 Seconds
Sensor temperature=31.2°C
FireCapture v2.6  Settings
------------------------------------
Observer=Ethan Chappel
Location=Cibolo
Scope=Celestron C14 EdgeHD
Camera=ZWO ASI290MM
Filter=IR685
Profile=Mars
Diameter=10.23"
Magnitude=-0.24
CM=20.9°  (during mid of capture)
FocalLength=9300mm (F/26)
Resolution=0.06"
Filename=2020-06-15-1043_4-EC-IR685-Mars.ser
Date=2020_06_15
Start=10_42_25.203
Mid=10_43_25.206
End=10_44_25.210
Start(UT)=10_42_25.203
Mid(UT)=10_43_25.206
End(UT)=10_44_25.210
Duration=120.007s
Date_format=yyyy_MM_dd
Time_format=HH_mm_ss
LT=UT -6h
Frames captured=21922
File type=SER
Binning=no
ROI=232x238
ROI(Offset)=352x584
FPS (avg.)=182
Shutter=5.000ms
Gain=320 (53%)
FPS=100 (off)
AutoHisto=75 (off)
Gamma=50 (off)
USBTraffic=100 (off)
AutoGain=off
HighSpeed=off
AutoExposure=off
SoftwareGain=10 (off)
Brightness=1 (off)
Histogramm(min)=0
Histogramm(max)=209
Histogramm=81%
Noise(avg.deviation)=0.71
Limit=120 Seconds
Sensor temperature=31.2°C
FireCapture v2.6  Settings
------------------------------------
Observer=Ethan Chappel
Location=Cibolo
Scope=Celestron C14 EdgeHD
Camera=ZWO ASI290MM
Filter=IR685
Profile=Mars
Diameter=10.23"
Magnitude=-0.24
CM=20.4°  (during mid of capture)
FocalLength=9300mm (F/26)
Resolution=0.06"
Filename=2020-06-15-1041_4-EC-IR685-Mars.ser
Date=2020_06_15
Start=10_40_24.644
Mid=10_41_24.649
End=10_42_24.655
Start(UT)=10_40_24.644
Mid(UT)=10_41_24.649
End(UT)=10_42_24.655
Duration=120.011s
Date_format=yyyy_MM_dd
Time_format=HH_mm_ss
LT=UT -6h
Frames captured=21780
File type=SER
Binning=no
ROI=232x238
ROI(Offset)=352x584
FPS (avg.)=181
Shutter=5.000ms
Gain=320 (53%)
FPS=100 (off)
AutoHisto=75 (off)
Gamma=50 (off)
USBTraffic=100 (off)
AutoGain=off
HighSpeed=off
AutoExposure=off
SoftwareGain=10 (off)
Brightness=1 (off)
Histogramm(min)=0
Histogramm(max)=168
Histogramm=65%
Noise(avg.deviation)=0.61
Limit=120 Seconds
Sensor temperature=31.2°C