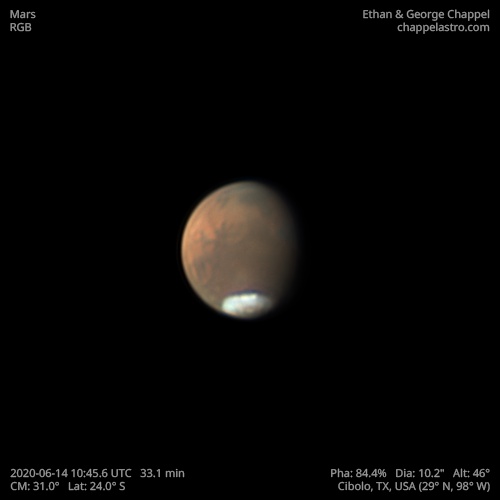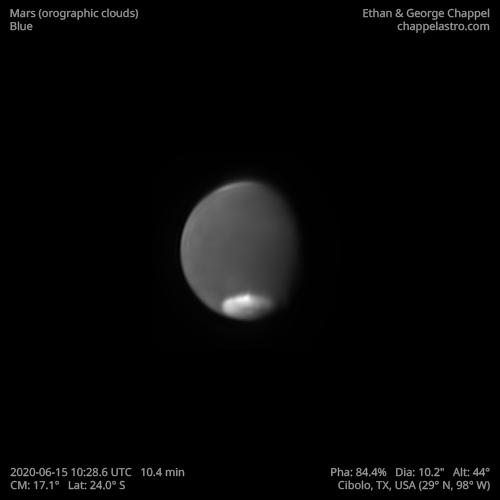 Mars UTC
CM1: 31.00°
CLat: -24.00°
Description
Very good seeing arrived after some decent conditions with Jupiter and Saturn. Mars is starting to climb higher in the sky as it moves north in the sky.
Notes:
Chryse and Niliacus Lacus are on the central meridian.
Valles Marineris is approaching the central meridian.
Solis Lacus is rising.
Sinus Meridiani is setting.
Equipment
ZWO ASI290MM
Astro-Physics Advanced Convertible Barlow
Celestron EdgeHD 14
Logs
FireCapture v2.6  Settings
------------------------------------
Observer=Ethan Chappel
Location=Cibolo
Scope=Celestron C14 EdgeHD
Camera=ZWO ASI290MM
Filter=B
Profile=Mars
Diameter=10.16"
Magnitude=-0.23
CM=35.6°  (during mid of capture)
FocalLength=9300mm (F/26)
Resolution=0.06"
Filename=2020-06-14-1103_5-EC-B-Mars.ser
Date=2020_06_14
Start=11_02_31.053
Mid=11_03_31.056
End=11_04_31.059
Start(UT)=11_02_31.053
Mid(UT)=11_03_31.056
End(UT)=11_04_31.059
Duration=120.006s
Date_format=yyyy_MM_dd
Time_format=HH_mm_ss
LT=UT -6h
Frames captured=22005
File type=SER
Binning=no
ROI=232x238
ROI(Offset)=352x584
FPS (avg.)=183
Shutter=5.000ms
Gain=360 (60%)
SoftwareGain=10 (off)
Gamma=50 (off)
AutoExposure=off
FPS=100 (off)
USBTraffic=100 (off)
AutoHisto=75 (off)
AutoGain=off
Brightness=1 (off)
HighSpeed=off
Histogramm(min)=0
Histogramm(max)=179
Histogramm=70%
Noise(avg.deviation)=0.98
Limit=120 Seconds
Sensor temperature=28.8°C
FireCapture v2.6  Settings
------------------------------------
Observer=Ethan Chappel
Location=Cibolo
Scope=Celestron C14 EdgeHD
Camera=ZWO ASI290MM
Filter=G
Profile=Mars
Diameter=10.16"
Magnitude=-0.23
CM=33.7°  (during mid of capture)
FocalLength=9400mm (F/26)
Resolution=0.06"
Filename=2020-06-14-1055_8-EC-G-Mars.ser
Date=2020_06_14
Start=10_54_51.776
Mid=10_55_51.779
End=10_56_51.782
Start(UT)=10_54_51.776
Mid(UT)=10_55_51.779
End(UT)=10_56_51.782
Duration=120.006s
Date_format=yyyy_MM_dd
Time_format=HH_mm_ss
LT=UT -6h
Frames captured=22035
File type=SER
Binning=no
ROI=232x238
ROI(Offset)=352x584
FPS (avg.)=183
Shutter=5.000ms
Gain=320 (53%)
SoftwareGain=10 (off)
Gamma=50 (off)
AutoExposure=off
FPS=100 (off)
USBTraffic=100 (off)
AutoHisto=75 (off)
AutoGain=off
Brightness=1 (off)
HighSpeed=off
Histogramm(min)=0
Histogramm(max)=212
Histogramm=83%
Noise(avg.deviation)=0.63
Limit=120 Seconds
Sensor temperature=29.0°C
FireCapture v2.6  Settings
------------------------------------
Observer=Ethan Chappel
Location=Cibolo
Scope=Celestron C14 EdgeHD
Camera=ZWO ASI290MM
Filter=R
Profile=Mars
Diameter=10.16"
Magnitude=-0.23
CM=33.2°  (during mid of capture)
FocalLength=9400mm (F/26)
Resolution=0.06"
Filename=2020-06-14-1053_6-EC-R-Mars.ser
Date=2020_06_14
Start=10_52_39.801
Mid=10_53_39.803
End=10_54_39.805
Start(UT)=10_52_39.801
Mid(UT)=10_53_39.803
End(UT)=10_54_39.805
Duration=120.004s
Date_format=yyyy_MM_dd
Time_format=HH_mm_ss
LT=UT -6h
Frames captured=22033
File type=SER
Binning=no
ROI=232x238
ROI(Offset)=352x584
FPS (avg.)=183
Shutter=5.000ms
Gain=290 (48%)
SoftwareGain=10 (off)
Gamma=50 (off)
AutoExposure=off
FPS=100 (off)
USBTraffic=100 (off)
AutoHisto=75 (off)
AutoGain=off
Brightness=1 (off)
HighSpeed=off
Histogramm(min)=0
Histogramm(max)=219
Histogramm=85%
Noise(avg.deviation)=0.58
Limit=120 Seconds
Sensor temperature=29.0°C
FireCapture v2.6  Settings
------------------------------------
Observer=Ethan Chappel
Location=Cibolo
Scope=Celestron C14 EdgeHD
Camera=ZWO ASI290MM
Filter=B
Profile=Mars
Diameter=10.16"
Magnitude=-0.23
CM=31.9°  (during mid of capture)
FocalLength=9350mm (F/26)
Resolution=0.06"
Filename=2020-06-14-1048_2-EC-B-Mars.ser
Date=2020_06_14
Start=10_47_16.160
Mid=10_48_16.166
End=10_49_16.173
Start(UT)=10_47_16.160
Mid(UT)=10_48_16.166
End(UT)=10_49_16.173
Duration=120.013s
Date_format=yyyy_MM_dd
Time_format=HH_mm_ss
LT=UT -6h
Frames captured=22004
File type=SER
Binning=no
ROI=232x238
ROI(Offset)=352x584
FPS (avg.)=183
Shutter=5.000ms
Gain=360 (60%)
SoftwareGain=10 (off)
Gamma=50 (off)
AutoExposure=off
FPS=100 (off)
USBTraffic=100 (off)
AutoHisto=75 (off)
AutoGain=off
Brightness=1 (off)
HighSpeed=off
Histogramm(min)=0
Histogramm(max)=224
Histogramm=87%
Noise(avg.deviation)=0.87
Limit=120 Seconds
Sensor temperature=29.0°C
FireCapture v2.6  Settings
------------------------------------
Observer=Ethan Chappel
Location=Cibolo
Scope=Celestron C14 EdgeHD
Camera=ZWO ASI290MM
Filter=G
Profile=Mars
Diameter=10.16"
Magnitude=-0.23
CM=30.7°  (during mid of capture)
FocalLength=9250mm (F/25)
Resolution=0.06"
Filename=2020-06-14-1043_2-EC-G-Mars.ser
Date=2020_06_14
Start=10_42_15.616
Mid=10_43_15.618
End=10_44_15.621
Start(UT)=10_42_15.616
Mid(UT)=10_43_15.618
End(UT)=10_44_15.621
Duration=120.005s
Date_format=yyyy_MM_dd
Time_format=HH_mm_ss
LT=UT -6h
Frames captured=22035
File type=SER
Binning=no
ROI=232x238
ROI(Offset)=352x584
FPS (avg.)=183
Shutter=5.000ms
Gain=320 (53%)
SoftwareGain=10 (off)
Gamma=50 (off)
AutoExposure=off
FPS=100 (off)
USBTraffic=100 (off)
AutoHisto=75 (off)
AutoGain=off
Brightness=1 (off)
HighSpeed=off
Histogramm(min)=0
Histogramm(max)=197
Histogramm=77%
Noise(avg.deviation)=0.65
Limit=120 Seconds
Sensor temperature=29.1°C
FireCapture v2.6  Settings
------------------------------------
Observer=Ethan Chappel
Location=Cibolo
Scope=Celestron C14 EdgeHD
Camera=ZWO ASI290MM
Filter=R
Profile=Mars
Diameter=10.16"
Magnitude=-0.23
CM=30.1°  (during mid of capture)
FocalLength=9550mm (F/26)
Resolution=0.06"
Filename=2020-06-14-1041_0-EC-R-Mars.ser
Date=2020_06_14
Start=10_40_05.430
Mid=10_41_05.431
End=10_42_05.432
Start(UT)=10_40_05.430
Mid(UT)=10_41_05.431
End(UT)=10_42_05.432
Duration=120.002s
Date_format=yyyy_MM_dd
Time_format=HH_mm_ss
LT=UT -6h
Frames captured=22033
File type=SER
Binning=no
ROI=232x238
ROI(Offset)=352x584
FPS (avg.)=183
Shutter=5.000ms
Gain=290 (48%)
SoftwareGain=10 (off)
Gamma=50 (off)
AutoExposure=off
FPS=100 (off)
USBTraffic=100 (off)
AutoHisto=75 (off)
AutoGain=off
Brightness=1 (off)
HighSpeed=off
Histogramm(min)=0
Histogramm(max)=221
Histogramm=86%
Noise(avg.deviation)=0.57
Limit=120 Seconds
Sensor temperature=29.0°C
FireCapture v2.6  Settings
------------------------------------
Observer=Ethan Chappel
Location=Cibolo
Scope=Celestron C14 EdgeHD
Camera=ZWO ASI290MM
Filter=B
Profile=Mars
Diameter=10.16"
Magnitude=-0.23
CM=29.4°  (during mid of capture)
FocalLength=9300mm (F/26)
Resolution=0.06"
Filename=2020-06-14-1038_0-EC-B-Mars.ser
Date=2020_06_14
Start=10_37_01.742
Mid=10_38_01.742
End=10_39_01.742
Start(UT)=10_37_01.742
Mid(UT)=10_38_01.742
End(UT)=10_39_01.742
Duration=120.000s
Date_format=yyyy_MM_dd
Time_format=HH_mm_ss
LT=UT -6h
Frames captured=22032
File type=SER
Binning=no
ROI=232x238
ROI(Offset)=352x584
FPS (avg.)=183
Shutter=5.000ms
Gain=360 (60%)
SoftwareGain=10 (off)
Gamma=50 (off)
AutoExposure=off
FPS=100 (off)
USBTraffic=100 (off)
AutoHisto=75 (off)
AutoGain=off
Brightness=1 (off)
HighSpeed=off
Histogramm(min)=0
Histogramm(max)=216
Histogramm=84%
Noise(avg.deviation)=0.85
Limit=120 Seconds
Sensor temperature=29.1°C
FireCapture v2.6  Settings
------------------------------------
Observer=Ethan Chappel
Location=Cibolo
Scope=Celestron C14 EdgeHD
Camera=ZWO ASI290MM
Filter=G
Profile=Mars
Diameter=10.16"
Magnitude=-0.23
CM=28.6°  (during mid of capture)
FocalLength=9600mm (F/26)
Resolution=0.06"
Filename=2020-06-14-1034_7-EC-G-Mars.ser
Date=2020_06_14
Start=10_33_44.091
Mid=10_34_44.093
End=10_35_44.096
Start(UT)=10_33_44.091
Mid(UT)=10_34_44.093
End(UT)=10_35_44.096
Duration=120.005s
Date_format=yyyy_MM_dd
Time_format=HH_mm_ss
LT=UT -6h
Frames captured=22034
File type=SER
Binning=no
ROI=232x238
ROI(Offset)=352x584
FPS (avg.)=183
Shutter=5.000ms
Gain=320 (53%)
SoftwareGain=10 (off)
Gamma=50 (off)
AutoExposure=off
FPS=100 (off)
USBTraffic=100 (off)
AutoHisto=75 (off)
AutoGain=off
Brightness=1 (off)
HighSpeed=off
Histogramm(min)=0
Histogramm(max)=198
Histogramm=77%
Noise(avg.deviation)=0.67
Limit=120 Seconds
Sensor temperature=29.3°C
FireCapture v2.6  Settings
------------------------------------
Observer=Ethan Chappel
Location=Cibolo
Scope=Celestron C14 EdgeHD
Camera=ZWO ASI290MM
Filter=R
Profile=Mars
Diameter=10.16"
Magnitude=-0.23
CM=28.0°  (during mid of capture)
FocalLength=9400mm (F/26)
Resolution=0.06"
Filename=2020-06-14-1032_4-EC-R-Mars.ser
Date=2020_06_14
Start=10_31_24.871
Mid=10_32_24.872
End=10_33_24.874
Start(UT)=10_31_24.871
Mid(UT)=10_32_24.872
End(UT)=10_33_24.874
Duration=120.003s
Date_format=yyyy_MM_dd
Time_format=HH_mm_ss
LT=UT -6h
Frames captured=21993
File type=SER
Binning=no
ROI=232x238
ROI(Offset)=352x584
FPS (avg.)=183
Shutter=5.000ms
Gain=290 (48%)
SoftwareGain=10 (off)
Gamma=50 (off)
AutoExposure=off
FPS=100 (off)
USBTraffic=100 (off)
AutoHisto=75 (off)
AutoGain=off
Brightness=1 (off)
HighSpeed=off
Histogramm(min)=0
Histogramm(max)=213
Histogramm=83%
Noise(avg.deviation)=0.58
Limit=120 Seconds
Sensor temperature=29.3°C