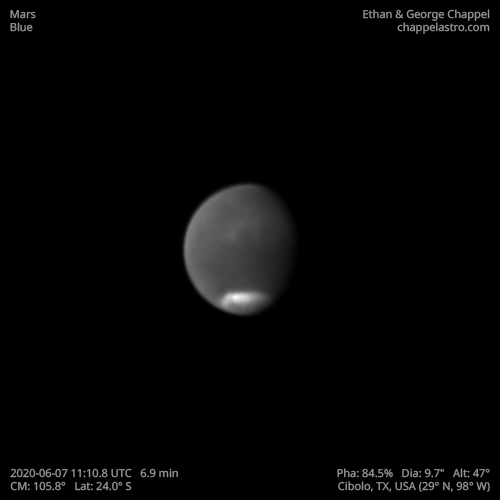 Mars UTC
CM1: 105.30°
CLat: -24.00°
Description
Very good conditions for imaging. Mars is starting to get noticeably higher in the Sky than Jupiter and Saturn even though it still doesn't reach the meridian by sunrise.
Notes:
Orographic clouds are visible near the Tharsis volcanoes.
Valles Marineris is rotating of the day side.
Terra Sirenum is approaching the central meridian.
Equipment
ZWO ASI290MM
Astro-Physics Advanced Convertible Barlow
Celestron EdgeHD 14
Logs
FireCapture v2.6  Settings
------------------------------------
Observer=Ethan Chappel
Location=Cibolo
Scope=Celestron C14 EdgeHD
Camera=ZWO ASI290MM
Filter=B
Profile=Mars
Diameter=9.68"
Magnitude=-0.12
CM=106.7°  (during mid of capture)
FocalLength=9200mm (F/25)
Resolution=0.06"
Filename=2020-06-07-1113_5-EC-B-Mars.ser
Date=070620
Start=111247.351
Mid=111332.356
End=111417.362
Start(UT)=111247.351
Mid(UT)=111332.356
End(UT)=111417.362
Duration=90.011s
Date_format=ddMMyy
Time_format=HHmmss
LT=UT -6h
Frames captured=16524
File type=SER
Binning=no
ROI=252x250
ROI(Offset)=0x0
FPS (avg.)=183
Shutter=5.000ms
Gain=385 (64%)
AutoGain=off
Gamma=50 (off)
Brightness=1 (off)
HighSpeed=off
AutoHisto=75 (off)
AutoExposure=off
SoftwareGain=10 (off)
FPS=100 (off)
USBTraffic=100 (off)
Histogramm(min)=0
Histogramm(max)=217
Histogramm=85%
Noise(avg.deviation)=2.04
Limit=90 Seconds
Sensor temperature=34.3°C
Focuser position=785
FireCapture v2.6  Settings
------------------------------------
Observer=Ethan Chappel
Location=Cibolo
Scope=Celestron C14 EdgeHD
Camera=ZWO ASI290MM
Filter=G
Profile=Mars
Diameter=9.68"
Magnitude=-0.12
CM=106.2°  (during mid of capture)
FocalLength=9400mm (F/26)
Resolution=0.06"
Filename=2020-06-07-1111_8-EC-G-Mars.ser
Date=070620
Start=111105.294
Mid=111150.295
End=111235.296
Start(UT)=111105.294
Mid(UT)=111150.295
End(UT)=111235.296
Duration=90.002s
Date_format=ddMMyy
Time_format=HHmmss
LT=UT -6h
Frames captured=16521
File type=SER
Binning=no
ROI=252x250
ROI(Offset)=0x0
FPS (avg.)=183
Shutter=5.000ms
Gain=340 (56%)
AutoGain=off
Gamma=50 (off)
Brightness=1 (off)
HighSpeed=off
AutoHisto=75 (off)
AutoExposure=off
SoftwareGain=10 (off)
FPS=100 (off)
USBTraffic=100 (off)
Histogramm(min)=0
Histogramm(max)=221
Histogramm=86%
Noise(avg.deviation)=1.03
Limit=90 Seconds
Sensor temperature=34.3°C
Focuser position=845
FireCapture v2.6  Settings
------------------------------------
Observer=Ethan Chappel
Location=Cibolo
Scope=Celestron C14 EdgeHD
Camera=ZWO ASI290MM
Filter=R
Profile=Mars
Diameter=9.68"
Magnitude=-0.12
CM=105.8°  (during mid of capture)
FocalLength=9400mm (F/26)
Resolution=0.06"
Filename=2020-06-07-1110_0-EC-R-Mars.ser
Date=070620
Start=110919.717
Mid=111004.723
End=111049.730
Start(UT)=110919.717
Mid(UT)=111004.723
End(UT)=111049.730
Duration=90.013s
Date_format=ddMMyy
Time_format=HHmmss
LT=UT -6h
Frames captured=16269
File type=SER
Binning=no
ROI=252x250
ROI(Offset)=0x0
FPS (avg.)=180
Shutter=5.000ms
Gain=290 (48%)
AutoGain=off
Gamma=50 (off)
Brightness=1 (off)
HighSpeed=off
AutoHisto=75 (off)
AutoExposure=off
SoftwareGain=10 (off)
FPS=100 (off)
USBTraffic=100 (off)
Histogramm(min)=0
Histogramm(max)=206
Histogramm=80%
Noise(avg.deviation)=0.66
Limit=90 Seconds
Sensor temperature=34.3°C
Focuser position=845
FireCapture v2.6  Settings
------------------------------------
Observer=Ethan Chappel
Location=Cibolo
Scope=Celestron C14 EdgeHD
Camera=ZWO ASI290MM
Filter=B
Profile=Mars
Diameter=9.68"
Magnitude=-0.12
CM=105.3°  (during mid of capture)
FocalLength=9250mm (F/25)
Resolution=0.06"
Filename=2020-06-07-1108_1-EC-B-Mars.ser
Date=070620
Start=110723.261
Mid=110808.263
End=110853.266
Start(UT)=110723.261
Mid(UT)=110808.263
End(UT)=110853.266
Duration=90.005s
Date_format=ddMMyy
Time_format=HHmmss
LT=UT -6h
Frames captured=16525
File type=SER
Binning=no
ROI=252x250
ROI(Offset)=0x0
FPS (avg.)=183
Shutter=5.000ms
Gain=385 (64%)
AutoGain=off
Gamma=50 (off)
Brightness=1 (off)
HighSpeed=off
AutoHisto=75 (off)
AutoExposure=off
SoftwareGain=10 (off)
FPS=100 (off)
USBTraffic=100 (off)
Histogramm(min)=0
Histogramm(max)=199
Histogramm=78%
Noise(avg.deviation)=1.39
Limit=90 Seconds
Sensor temperature=34.3°C
Focuser position=785
FireCapture v2.6  Settings
------------------------------------
Observer=Ethan Chappel
Location=Cibolo
Scope=Celestron C14 EdgeHD
Camera=ZWO ASI290MM
Filter=G
Profile=Mars
Diameter=9.68"
Magnitude=-0.12
CM=104.9°  (during mid of capture)
FocalLength=9350mm (F/26)
Resolution=0.06"
Filename=2020-06-07-1106_4-EC-G-Mars.ser
Date=070620
Start=110541.062
Mid=110626.065
End=110711.069
Start(UT)=110541.062
Mid(UT)=110626.065
End(UT)=110711.069
Duration=90.007s
Date_format=ddMMyy
Time_format=HHmmss
LT=UT -6h
Frames captured=16524
File type=SER
Binning=no
ROI=252x250
ROI(Offset)=0x0
FPS (avg.)=183
Shutter=5.000ms
Gain=350 (58%)
AutoGain=off
Gamma=50 (off)
Brightness=1 (off)
HighSpeed=off
AutoHisto=75 (off)
AutoExposure=off
SoftwareGain=10 (off)
FPS=100 (off)
USBTraffic=100 (off)
Histogramm(min)=0
Histogramm(max)=222
Histogramm=87%
Noise(avg.deviation)=0.95
Limit=90 Seconds
Sensor temperature=34.5°C
Focuser position=845
FireCapture v2.6  Settings
------------------------------------
Observer=Ethan Chappel
Location=Cibolo
Scope=Celestron C14 EdgeHD
Camera=ZWO ASI290MM
Filter=R
Profile=Mars
Diameter=9.68"
Magnitude=-0.12
CM=104.5°  (during mid of capture)
FocalLength=9500mm (F/26)
Resolution=0.06"
Filename=2020-06-07-1104_7-EC-R-Mars.ser
Date=070620
Start=110401.221
Mid=110446.228
End=110531.236
Start(UT)=110401.221
Mid(UT)=110446.228
End(UT)=110531.236
Duration=90.015s
Date_format=ddMMyy
Time_format=HHmmss
LT=UT -6h
Frames captured=16524
File type=SER
Binning=no
ROI=252x250
ROI(Offset)=0x0
FPS (avg.)=183
Shutter=5.000ms
Gain=290 (48%)
AutoGain=off
Gamma=50 (off)
Brightness=1 (off)
HighSpeed=off
AutoHisto=75 (off)
AutoExposure=off
SoftwareGain=10 (off)
FPS=100 (off)
USBTraffic=100 (off)
Histogramm(min)=0
Histogramm(max)=227
Histogramm=89%
Noise(avg.deviation)=0.55
Limit=90 Seconds
Sensor temperature=34.3°C
Focuser position=845