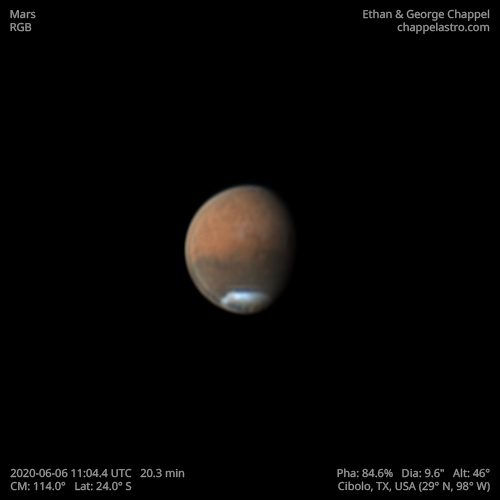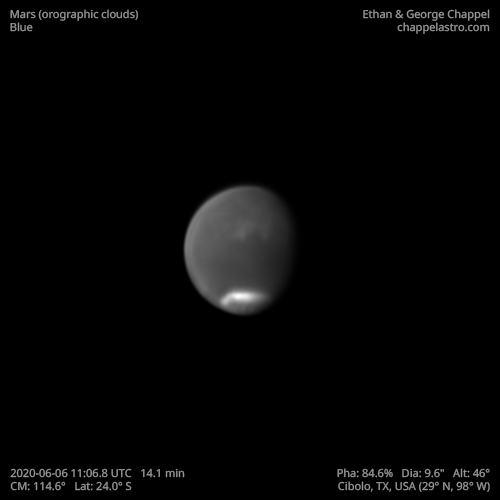 Mars UTC
CM1: 114.00°
CLat: -24.00°
Description
The sky was brightening quickly, so I had to move on to Mars after a short time with Neptune. Seeing was excellent and transparency was good.
Notes:
Orographic clouds are visible near the Tharsis volcanoes.
Valles Marineris is rotating of the day side.
Terra Sirenum is at the central meridian.
Equipment
ZWO ASI290MM
Astro-Physics Advanced Convertible Barlow
Celestron EdgeHD 14
Logs
FireCapture v2.6  Settings
------------------------------------
Observer=Ethan Chappel
Location=Cibolo
Scope=Celestron C14 EdgeHD
Camera=ZWO ASI290MM
Filter=B
Profile=Mars
Diameter=9.62"
Magnitude=-0.10
CM=116.4°  (during mid of capture)
FocalLength=8850mm (F/24)
Resolution=0.07"
Filename=2020-06-06-1113_1-EC-B-Mars.ser
Date=060620
Start=111226.009
Mid=111311.011
End=111356.013
Start(UT)=111226.009
Mid(UT)=111311.011
End(UT)=111356.013
Duration=90.004s
Date_format=ddMMyy
Time_format=HHmmss
LT=UT -6h
Frames captured=13107
File type=SER
Binning=no
ROI=252x250
ROI(Offset)=0x0
FPS (avg.)=145
Shutter=5.000ms
Gain=390 (65%)
HighSpeed=off
AutoGain=off
USBTraffic=100
SoftwareGain=10 (off)
FPS=100 (off)
Brightness=1 (off)
Gamma=50 (off)
AutoExposure=off
AutoHisto=75 (off)
Histogramm(min)=0
Histogramm(max)=209
Histogramm=81%
Noise(avg.deviation)=1.25
Limit=90 Seconds
Sensor temperature=32.6°C
Focuser position=780
FireCapture v2.6  Settings
------------------------------------
Observer=Ethan Chappel
Location=Cibolo
Scope=Celestron C14 EdgeHD
Camera=ZWO ASI290MM
Filter=G
Profile=Mars
Diameter=9.62"
Magnitude=-0.10
CM=115.8°  (during mid of capture)
FocalLength=9150mm (F/25)
Resolution=0.07"
Filename=2020-06-06-1110_9-EC-G-Mars.ser
Date=060620
Start=111011.431
Mid=111056.434
End=111141.438
Start(UT)=111011.431
Mid(UT)=111056.434
End(UT)=111141.438
Duration=90.007s
Date_format=ddMMyy
Time_format=HHmmss
LT=UT -6h
Frames captured=13316
File type=SER
Binning=no
ROI=252x250
ROI(Offset)=0x0
FPS (avg.)=147
Shutter=5.000ms
Gain=350 (58%)
HighSpeed=off
AutoGain=off
USBTraffic=100
SoftwareGain=10 (off)
FPS=100 (off)
Brightness=1 (off)
Gamma=50 (off)
AutoExposure=off
AutoHisto=75 (off)
Histogramm(min)=0
Histogramm(max)=195
Histogramm=76%
Noise(avg.deviation)=0.59
Limit=90 Seconds
Sensor temperature=32.7°C
Focuser position=850
FireCapture v2.6  Settings
------------------------------------
Observer=Ethan Chappel
Location=Cibolo
Scope=Celestron C14 EdgeHD
Camera=ZWO ASI290MM
Filter=R
Profile=Mars
Diameter=9.62"
Magnitude=-0.10
CM=115.4°  (during mid of capture)
FocalLength=9350mm (F/26)
Resolution=0.06"
Filename=2020-06-06-1109_2-EC-R-Mars.ser
Date=060620
Start=110832.285
Mid=110917.291
End=111002.298
Start(UT)=110832.285
Mid(UT)=110917.291
End(UT)=111002.298
Duration=90.013s
Date_format=ddMMyy
Time_format=HHmmss
LT=UT -6h
Frames captured=13264
File type=SER
Binning=no
ROI=252x250
ROI(Offset)=0x0
FPS (avg.)=147
Shutter=5.000ms
Gain=300 (50%)
HighSpeed=off
AutoGain=off
USBTraffic=100 (off)
SoftwareGain=10 (off)
FPS=100 (off)
Brightness=1 (off)
Gamma=50 (off)
AutoExposure=off
AutoHisto=75 (off)
Histogramm(min)=0
Histogramm(max)=223
Histogramm=87%
Noise(avg.deviation)=0.44
Limit=90 Seconds
Sensor temperature=32.7°C
Focuser position=850
FireCapture v2.6  Settings
------------------------------------
Observer=Ethan Chappel
Location=Cibolo
Scope=Celestron C14 EdgeHD
Camera=ZWO ASI290MM
Filter=B
Profile=Mars
Diameter=9.62"
Magnitude=-0.10
CM=114.8°  (during mid of capture)
FocalLength=9000mm (F/25)
Resolution=0.07"
Filename=2020-06-06-1106_8-EC-B-Mars.ser
Date=060620
Start=110603.680
Mid=110648.686
End=110733.693
Start(UT)=110603.680
Mid(UT)=110648.686
End(UT)=110733.693
Duration=90.013s
Date_format=ddMMyy
Time_format=HHmmss
LT=UT -6h
Frames captured=13316
File type=SER
Binning=no
ROI=252x250
ROI(Offset)=0x0
FPS (avg.)=147
Shutter=5.000ms
Gain=390 (65%)
HighSpeed=off
AutoGain=off
USBTraffic=100
SoftwareGain=10 (off)
FPS=100 (off)
Brightness=1 (off)
Gamma=50 (off)
AutoExposure=off
AutoHisto=75 (off)
Histogramm(min)=0
Histogramm(max)=220
Histogramm=86%
Noise(avg.deviation)=0.78
Limit=90 Seconds
Sensor temperature=32.6°C
Focuser position=780
FireCapture v2.6  Settings
------------------------------------
Observer=Ethan Chappel
Location=Cibolo
Scope=Celestron C14 EdgeHD
Camera=ZWO ASI290MM
Filter=G
Profile=Mars
Diameter=9.62"
Magnitude=-0.10
CM=114.4°  (during mid of capture)
FocalLength=9350mm (F/26)
Resolution=0.06"
Filename=2020-06-06-1104_9-EC-G-Mars.ser
Date=060620
Start=110410.833
Mid=110455.839
End=110540.845
Start(UT)=110410.833
Mid(UT)=110455.839
End(UT)=110540.845
Duration=90.012s
Date_format=ddMMyy
Time_format=HHmmss
LT=UT -6h
Frames captured=13317
File type=SER
Binning=no
ROI=252x250
ROI(Offset)=0x0
FPS (avg.)=147
Shutter=5.000ms
Gain=350 (58%)
HighSpeed=off
AutoGain=off
USBTraffic=100
SoftwareGain=10 (off)
FPS=100 (off)
Brightness=1 (off)
Gamma=50 (off)
AutoExposure=off
AutoHisto=75 (off)
Histogramm(min)=0
Histogramm(max)=215
Histogramm=84%
Noise(avg.deviation)=0.55
Limit=90 Seconds
Sensor temperature=32.7°C
Focuser position=850
FireCapture v2.6  Settings
------------------------------------
Observer=Ethan Chappel
Location=Cibolo
Scope=Celestron C14 EdgeHD
Camera=ZWO ASI290MM
Filter=R
Profile=Mars
Diameter=9.62"
Magnitude=-0.10
CM=113.8°  (during mid of capture)
FocalLength=9200mm (F/25)
Resolution=0.06"
Filename=2020-06-06-1102_6-EC-R-Mars.ser
Date=060620
Start=110152.827
Mid=110237.829
End=110322.832
Start(UT)=110152.827
Mid(UT)=110237.829
End(UT)=110322.832
Duration=90.005s
Date_format=ddMMyy
Time_format=HHmmss
LT=UT -6h
Frames captured=13316
File type=SER
Binning=no
ROI=252x250
ROI(Offset)=0x0
FPS (avg.)=147
Shutter=5.000ms
Gain=300 (50%)
HighSpeed=off
AutoGain=off
USBTraffic=100 (off)
SoftwareGain=10 (off)
FPS=100 (off)
Brightness=1 (off)
Gamma=50 (off)
AutoExposure=off
AutoHisto=75 (off)
Histogramm(min)=0
Histogramm(max)=220
Histogramm=86%
Noise(avg.deviation)=0.45
Limit=90 Seconds
Sensor temperature=32.7°C
Focuser position=850
FireCapture v2.6  Settings
------------------------------------
Observer=Ethan Chappel
Location=Cibolo
Scope=Celestron C14 EdgeHD
Camera=ZWO ASI290MM
Filter=B
Profile=Mars
Diameter=9.62"
Magnitude=-0.10
CM=113.3°  (during mid of capture)
FocalLength=9150mm (F/25)
Resolution=0.07"
Filename=2020-06-06-1100_5-EC-B-Mars.ser
Date=060620
Start=105945.025
Mid=110030.029
End=110115.034
Start(UT)=105945.025
Mid(UT)=110030.029
End(UT)=110115.034
Duration=90.009s
Date_format=ddMMyy
Time_format=HHmmss
LT=UT -6h
Frames captured=13317
File type=SER
Binning=no
ROI=252x250
ROI(Offset)=0x0
FPS (avg.)=147
Shutter=5.000ms
Gain=390 (65%)
HighSpeed=off
AutoGain=off
USBTraffic=100
SoftwareGain=10 (off)
FPS=100 (off)
Brightness=1 (off)
Gamma=50 (off)
AutoExposure=off
AutoHisto=75 (off)
Histogramm(min)=0
Histogramm(max)=233
Histogramm=91%
Noise(avg.deviation)=0.71
Limit=90 Seconds
Sensor temperature=32.7°C
Focuser position=780
FireCapture v2.6  Settings
------------------------------------
Observer=Ethan Chappel
Location=Cibolo
Scope=Celestron C14 EdgeHD
Camera=ZWO ASI290MM
Filter=G
Profile=Mars
Diameter=9.62"
Magnitude=-0.10
CM=112.4°  (during mid of capture)
FocalLength=9400mm (F/26)
Resolution=0.06"
Filename=2020-06-06-1056_9-EC-G-Mars.ser
Date=060620
Start=105610.495
Mid=105655.498
End=105740.502
Start(UT)=105610.495
Mid(UT)=105655.498
End(UT)=105740.502
Duration=90.007s
Date_format=ddMMyy
Time_format=HHmmss
LT=UT -6h
Frames captured=13318
File type=SER
Binning=no
ROI=252x250
ROI(Offset)=0x0
FPS (avg.)=147
Shutter=5.000ms
Gain=350 (58%)
HighSpeed=off
AutoGain=off
USBTraffic=100
SoftwareGain=10 (off)
FPS=100 (off)
Brightness=1 (off)
Gamma=50 (off)
AutoExposure=off
AutoHisto=75 (off)
Histogramm(min)=0
Histogramm(max)=217
Histogramm=85%
Noise(avg.deviation)=0.58
Limit=90 Seconds
Sensor temperature=33.0°C
Focuser position=850
FireCapture v2.6  Settings
------------------------------------
Observer=Ethan Chappel
Location=Cibolo
Scope=Celestron C14 EdgeHD
Camera=ZWO ASI290MM
Filter=R
Profile=Mars
Diameter=9.62"
Magnitude=-0.10
CM=111.8°  (during mid of capture)
FocalLength=9200mm (F/25)
Resolution=0.06"
Filename=2020-06-06-1054_3-EC-R-Mars.ser
Date=060620
Start=105333.276
Mid=105418.279
End=105503.283
Start(UT)=105333.276
Mid(UT)=105418.279
End(UT)=105503.283
Duration=90.007s
Date_format=ddMMyy
Time_format=HHmmss
LT=UT -6h
Frames captured=13317
File type=SER
Binning=no
ROI=600x600
ROI(Offset)=0x0
FPS (avg.)=147
Shutter=5.000ms
Gain=300 (50%)
HighSpeed=off
AutoGain=off
USBTraffic=100 (off)
SoftwareGain=10 (off)
FPS=100 (off)
Brightness=1 (off)
Gamma=50 (off)
AutoExposure=off
AutoHisto=75 (off)
Histogramm(min)=0
Histogramm(max)=228
Histogramm=89%
Noise(avg.deviation)=0.43
Limit=90 Seconds
Sensor temperature=33.0°C
Focuser position=850