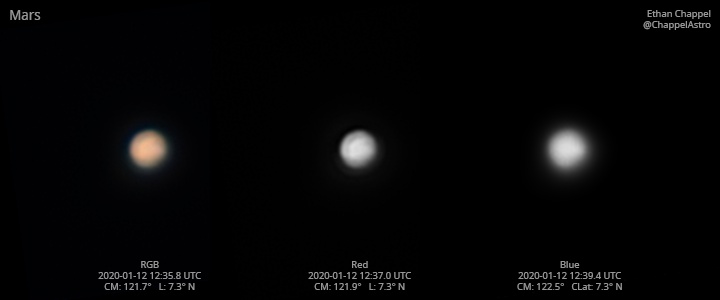 Mars UTC
CM1: 121.70°
CLat: +7.30°
Description
I left my telescope out all night after imaging Venus with the hopes of imaging Mars. To my surprise, everything was covered in slushy dew when I came back. The sky was also full of thin clouds.
Viewing the red channel by itself helps brings out surface features, while the blue channel brings out the ice clouds.

Notes:
There appears to be an ice cloud near the terminator, the line between day and night.
I suspect the South Polar Hood is visible in the blue channel
Mare Sirenum is visible as a dark area straddling the southern limb of Mars.
Logs
FireCapture v2.6  Settings
------------------------------------
Observer=Ethan Chappel
Camera=ZWO ASI174MM
Filter=R
Profile=Mars
Diameter=4.46"
Magnitude=1.50
CM=125.6°  (during mid of capture)
FocalLength=10300mm (F/36)
Resolution=0.12"
Filename=2020-01-12-1251_1-EC-R-Mars.ser
Date=2020_01_12
Start=12_49_53.884
Mid=12_51_08.896
End=12_52_23.909
Start(UT)=12_49_53.884
Mid(UT)=12_51_08.896
End(UT)=12_52_23.909
Duration=150.025s
Date_format=yyyy_MM_dd
Time_format=HH_mm_ss
LT=UT -6h
Frames captured=5760
File type=SER
Binning=no
Bit depth=8bit
Debayer=no
ROI=184x190
ROI(Offset)=0x0
FPS (avg.)=38
Shutter=26.00ms
Gain=355 (88%)
Gamma=50 (off)
Brightness=1 (off)
FPS=100 (off)
AutoGain=off
SoftwareGain=10 (off)
USBTraffic=80 (off)
AutoExposure=off
AutoHisto=75 (off)
HighSpeed=off
Histogramm(min)=0
Histogramm(max)=156
Histogramm=61%
Noise(avg.deviation)=1.39
AutoAlign=false
PreFilter=none
Limit=150 Seconds
Sensor temperature=17.6°C
FireCapture v2.6  Settings
------------------------------------
Observer=Ethan Chappel
Camera=ZWO ASI174MM
Filter=B
Profile=Mars
Diameter=4.46"
Magnitude=1.50
CM=124.9°  (during mid of capture)
FocalLength=9200mm (F/32)
Resolution=0.13"
Filename=2020-01-12-1248_0-EC-B-Mars.ser
Date=2020_01_12
Start=12_46_45.945
Mid=12_48_00.950
End=12_49_15.955
Start(UT)=12_46_45.945
Mid(UT)=12_48_00.950
End(UT)=12_49_15.955
Duration=150.010s
Date_format=yyyy_MM_dd
Time_format=HH_mm_ss
LT=UT -6h
Frames captured=3955
File type=SER
Binning=no
Bit depth=8bit
Debayer=no
ROI=184x190
ROI(Offset)=0x0
FPS (avg.)=26
Shutter=37.89ms
Gain=400 (100%)
Gamma=50 (off)
Brightness=1 (off)
FPS=100 (off)
AutoGain=off
SoftwareGain=10 (off)
USBTraffic=80 (off)
AutoExposure=off
AutoHisto=75 (off)
HighSpeed=off
Histogramm(min)=0
Histogramm(max)=90
Histogramm=35%
Noise(avg.deviation)=2.46
AutoAlign=false
PreFilter=none
Limit=150 Seconds
Sensor temperature=17.6°C
FireCapture v2.6  Settings
------------------------------------
Observer=Ethan Chappel
Camera=ZWO ASI174MM
Filter=B
Profile=Mars
Diameter=4.46"
Magnitude=1.50
CM=124.2°  (during mid of capture)
FocalLength=9200mm (F/32)
Resolution=0.13"
Filename=2020-01-12-1245_3-EC-B-Mars.ser
Date=2020_01_12
Start=12_44_07.223
Mid=12_45_22.224
End=12_46_37.226
Start(UT)=12_44_07.223
Mid(UT)=12_45_22.224
End(UT)=12_46_37.226
Duration=150.003s
Date_format=yyyy_MM_dd
Time_format=HH_mm_ss
LT=UT -6h
Frames captured=3954
File type=SER
Binning=no
Bit depth=8bit
Debayer=no
ROI=184x190
ROI(Offset)=0x0
FPS (avg.)=26
Shutter=37.89ms
Gain=400 (100%)
Gamma=50 (off)
Brightness=1 (off)
FPS=100 (off)
AutoGain=off
SoftwareGain=10 (off)
USBTraffic=80 (off)
AutoExposure=off
AutoHisto=75 (off)
HighSpeed=off
Histogramm(min)=0
Histogramm(max)=96
Histogramm=37%
Noise(avg.deviation)=2.48
AutoAlign=false
PreFilter=none
Limit=150 Seconds
Sensor temperature=17.6°C
FireCapture v2.6  Settings
------------------------------------
Observer=Ethan Chappel
Camera=ZWO ASI174MM
Filter=G
Profile=Mars
Diameter=4.46"
Magnitude=1.50
CM=123.2°  (during mid of capture)
FocalLength=10050mm (F/35)
Resolution=0.12"
Filename=2020-01-12-1241_2-EC-G-Mars.ser
Date=2020_01_12
Start=12_40_02.971
Mid=12_41_17.976
End=12_42_32.982
Start(UT)=12_40_02.971
Mid(UT)=12_41_17.976
End(UT)=12_42_32.982
Duration=150.011s
Date_format=yyyy_MM_dd
Time_format=HH_mm_ss
LT=UT -6h
Frames captured=7483
File type=SER
Binning=no
Bit depth=8bit
Debayer=no
ROI=184x190
ROI(Offset)=0x0
FPS (avg.)=49
Shutter=20.00ms
Gain=373 (93%)
Gamma=50 (off)
Brightness=1 (off)
FPS=100 (off)
AutoGain=off
SoftwareGain=10 (off)
USBTraffic=80 (off)
AutoExposure=off
AutoHisto=75 (off)
HighSpeed=off
Histogramm(min)=0
Histogramm(max)=87
Histogramm=34%
Noise(avg.deviation)=1.75
AutoAlign=false
PreFilter=none
Limit=150 Seconds
Sensor temperature=17.5°C
FireCapture v2.6  Settings
------------------------------------
Observer=Ethan Chappel
Camera=ZWO ASI174MM
Filter=R
Profile=Mars
Diameter=4.46"
Magnitude=1.50
CM=120.8°  (during mid of capture)
FocalLength=10050mm (F/35)
Resolution=0.12"
Filename=2020-01-12-1231_4-EC-R-Mars.ser
Date=2020_01_12
Start=12_30_11.965
Mid=12_31_26.970
End=12_32_41.975
Start(UT)=12_30_11.965
Mid(UT)=12_31_26.970
End(UT)=12_32_41.975
Duration=150.010s
Date_format=yyyy_MM_dd
Time_format=HH_mm_ss
LT=UT -6h
Frames captured=5995
File type=SER
Binning=no
Bit depth=8bit
Debayer=no
ROI=184x190
ROI(Offset)=0x0
FPS (avg.)=39
Shutter=24.98ms
Gain=355 (88%)
Gamma=50 (off)
Brightness=1 (off)
FPS=100 (off)
AutoGain=off
SoftwareGain=10 (off)
USBTraffic=80 (off)
AutoExposure=off
AutoHisto=75 (off)
HighSpeed=off
Histogramm(min)=0
Histogramm(max)=125
Histogramm=49%
Noise(avg.deviation)=1.36
AutoAlign=false
PreFilter=none
Limit=150 Seconds
Sensor temperature=17.2°C
FireCapture v2.6  Settings
------------------------------------
Observer=Ethan Chappel
Camera=ZWO ASI174MM
Filter=R
Profile=Mars
Diameter=4.46"
Magnitude=1.50
CM=120.1°  (during mid of capture)
FocalLength=10300mm (F/36)
Resolution=0.12"
Filename=2020-01-12-1228_5-EC-R-Mars.ser
Date=2020_01_12
Start=12_27_20.083
Mid=12_28_35.087
End=12_29_50.092
Start(UT)=12_27_20.083
Mid(UT)=12_28_35.087
End(UT)=12_29_50.092
Duration=150.009s
Date_format=yyyy_MM_dd
Time_format=HH_mm_ss
LT=UT -6h
Frames captured=5995
File type=SER
Binning=no
Bit depth=8bit
Debayer=no
ROI=184x190
ROI(Offset)=0x0
FPS (avg.)=39
Shutter=24.98ms
Gain=355 (88%)
Gamma=50 (off)
Brightness=1 (off)
FPS=100 (off)
AutoGain=off
SoftwareGain=10 (off)
USBTraffic=80 (off)
AutoExposure=off
AutoHisto=75 (off)
HighSpeed=off
Histogramm(min)=0
Histogramm(max)=140
Histogramm=54%
Noise(avg.deviation)=1.36
AutoAlign=false
PreFilter=none
Limit=150 Seconds
Sensor temperature=17.2°C
FireCapture v2.6  Settings
------------------------------------
Observer=Ethan Chappel
Camera=ZWO ASI174MM
Filter=B
Profile=Mars
Diameter=4.46"
Magnitude=1.50
CM=119.3°  (during mid of capture)
FocalLength=9500mm (F/33)
Resolution=0.13"
Filename=2020-01-12-1225_0-EC-B-Mars.ser
Date=2020_01_12
Start=12_23_47.165
Mid=12_25_02.170
End=12_26_17.175
Start(UT)=12_23_47.165
Mid(UT)=12_25_02.170
End(UT)=12_26_17.175
Duration=150.010s
Date_format=yyyy_MM_dd
Time_format=HH_mm_ss
LT=UT -6h
Frames captured=3955
File type=SER
Binning=no
Bit depth=8bit
Debayer=no
ROI=184x190
ROI(Offset)=0x0
FPS (avg.)=26
Shutter=37.89ms
Gain=400 (100%)
Gamma=50 (off)
Brightness=1 (off)
FPS=100 (off)
AutoGain=off
SoftwareGain=10 (off)
USBTraffic=80 (off)
AutoExposure=off
AutoHisto=75 (off)
HighSpeed=off
Histogramm(min)=0
Histogramm(max)=89
Histogramm=34%
Noise(avg.deviation)=2.44
AutoAlign=false
PreFilter=none
Limit=150 Seconds
Sensor temperature=17.1°C
FireCapture v2.6  Settings
------------------------------------
Observer=Ethan Chappel
Camera=ZWO ASI174MM
Filter=G
Profile=Mars
Diameter=4.46"
Magnitude=1.50
CM=118.2°  (during mid of capture)
FocalLength=10050mm (F/35)
Resolution=0.12"
Filename=2020-01-12-1220_8-EC-G-Mars.ser
Date=2020_01_12
Start=12_19_34.616
Mid=12_20_49.618
End=12_22_04.620
Start(UT)=12_19_34.616
Mid(UT)=12_20_49.618
End(UT)=12_22_04.620
Duration=150.004s
Date_format=yyyy_MM_dd
Time_format=HH_mm_ss
LT=UT -6h
Frames captured=7483
File type=SER
Binning=no
Bit depth=8bit
Debayer=no
ROI=184x190
ROI(Offset)=0x0
FPS (avg.)=49
Shutter=20.00ms
Gain=373 (93%)
Gamma=50 (off)
Brightness=1 (off)
FPS=100 (off)
AutoGain=off
SoftwareGain=10 (off)
USBTraffic=80 (off)
AutoExposure=off
AutoHisto=75 (off)
HighSpeed=off
Histogramm(min)=0
Histogramm(max)=133
Histogramm=52%
Noise(avg.deviation)=1.74
AutoAlign=false
PreFilter=none
Limit=150 Seconds
Sensor temperature=16.8°C