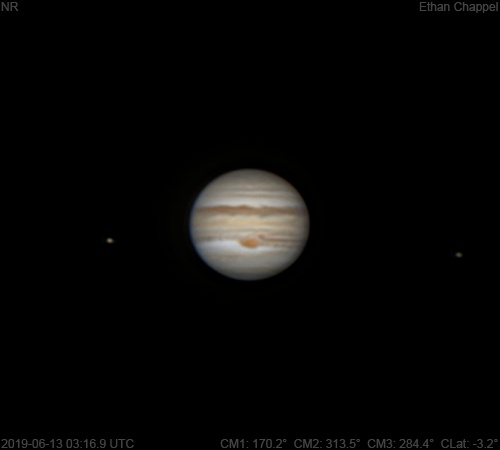 Jupiter UTC
CM1: 170.20°
CM2: 313.50°
CM3: 284.40°
CLat: -3.20°
Description
Another night starting with a test of the sky conditions with the 90mm Mak before bringing out a bigger scope. Conditions were not as good as the previous session.

Notes:
White Oval Z is just past the central meridian.
The Equatorial Zone is orange.
The Great Red Spot is on the central meridian.
Clouds from the South Equatorial Belt are circulating around the GRS and into the South Tropical Zone to the east.
Io and Europa are left and right of the planet respectively.
Equipment
ZWO ASI224MC
Orion Apex 90mm
Logs
FireCapture v2.6  Settings
------------------------------------
Observer=Ethan Chappel
Camera=ZWO ASI224MC
Filter=RGB
Profile=Jupiter
Diameter=45.96"
Magnitude=-2.62
CMI=171.0° CMII=314.2° CMIII=285.2°  (during mid of capture)
FocalLength=1150mm (F/4)
Resolution=0.67"
Filename=2019-06-13-0318_3-EC-RGB-Jup.ser
Date=2019_06_13
Start=03_17_05.625
Mid=03_18_20.627
End=03_19_35.629
Start(UT)=03_17_05.625
Mid(UT)=03_18_20.627
End(UT)=03_19_35.629
Duration=150.004s
Date_format=yyyy_MM_dd
Time_format=HH_mm_ss
LT=UT -6h
Frames captured=9594
File type=SER
Binning=no
Bit depth=8bit
Debayer=yes
DebayerAlgorithm=NearestNeighbor
BayerPattern=RG
ROI=364x248
ROI(Offset)=0x0
FPS (avg.)=63
Shutter=7.000ms
Gain=280 (46%)
SoftwareGain=10 (off)
AutoHisto=75 (off)
AutoExposure=off
AutoGain=off
HighSpeed=off
WBlue=95 (off)
Gamma=50 (off)
FPS=100 (off)
Brightness=1 (off)
USBTraffic=100 (off)
HardwareBin=off
WRed=52 (off)
Histogramm(min)=0
Histogramm(max)=128
Histogramm=50%
Noise(avg.deviation)=0.09
AutoAlign=false
PreFilter=none
Limit=150 Seconds
Sensor temperature=32.5°C
FireCapture v2.6  Settings
------------------------------------
Observer=Ethan Chappel
Camera=ZWO ASI224MC
Filter=RGB
Profile=Jupiter
Diameter=45.96"
Magnitude=-2.62
CMI=169.3° CMII=312.5° CMIII=283.5°  (during mid of capture)
FocalLength=1150mm (F/4)
Resolution=0.68"
Filename=2019-06-13-0315_5-EC-RGB-Jup.ser
Date=2019_06_13
Start=03_14_18.897
Mid=03_15_33.901
End=03_16_48.905
Start(UT)=03_14_18.897
Mid(UT)=03_15_33.901
End(UT)=03_16_48.905
Duration=150.008s
Date_format=yyyy_MM_dd
Time_format=HH_mm_ss
LT=UT -6h
Frames captured=9594
File type=SER
Binning=no
Bit depth=8bit
Debayer=yes
DebayerAlgorithm=NearestNeighbor
BayerPattern=RG
ROI=364x248
ROI(Offset)=0x0
FPS (avg.)=63
Shutter=7.000ms
Gain=280 (46%)
SoftwareGain=10 (off)
AutoHisto=75 (off)
AutoExposure=off
AutoGain=off
HighSpeed=off
WBlue=95 (off)
Gamma=50 (off)
FPS=100 (off)
Brightness=1 (off)
USBTraffic=100 (off)
HardwareBin=off
WRed=52 (off)
Histogramm(min)=0
Histogramm(max)=132
Histogramm=51%
Noise(avg.deviation)=0.09
AutoAlign=false
PreFilter=none
Limit=150 Seconds
Sensor temperature=32.3°C