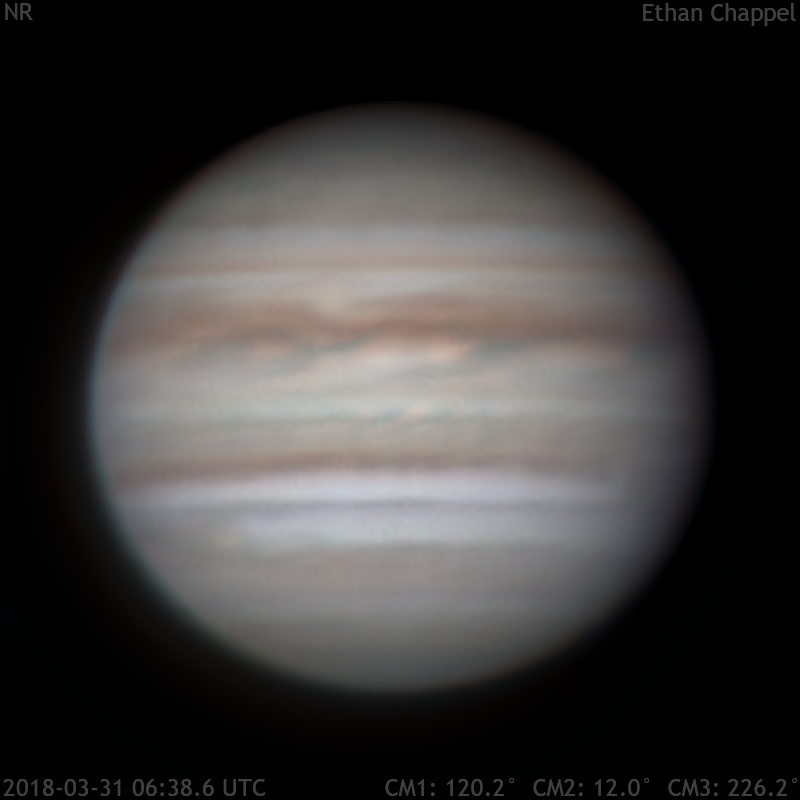 Jupiter UTC
CM1: 120.20°
CM2: 12.00°
CM3: 226.20°
CLat: -3.90°
Description
Seeing was better, relatively speaking, than what I've seen over the past few months despite Jupiter being only 29° in altitude. However, I am still waiting for anything decent almost six months after receiving the C14 Edge HD. Unfortunately, thin clouds that slowly grew opaque prevented any more imaging when Jupiter was at a higher altitude and seeing was improving.

Some notes about surface details, from north to south:
The NTB has thinned to little more than a thin orange belt since its dramatic return early last apparition.
White Spot Z is near the central meridian on the northern edge of the NEB.
The NEB continues to retreat to its normal height.
The EZ still has an orange tint.
The southern edge of the SEB is noticeably darker than the rest of the belt.
Oval BA is rising with the darkened Ghost trailing it.
Equipment
ZWO ASI290MM
Tele Vue 2.5x Powermate
Celestron EdgeHD 14